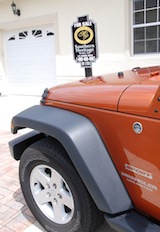 Need a new car? Get one free with your next home purchase!
Desperate homeowners are offering all sorts of incentives to buyers in the wake of some staggering new data.
But forget granite counter tops, hardwood floors, and shiny new cars.  What the real estate world needs is financing.
So first the harsh reality…and then the owner financing solution!
The National Association of Realtors (NAR) released some sobering news last week for February sales. Not to get you all depressed but consider this:
Existing home sales dropped 9.6%
Housing Inventory rose 3.5%
All Cash Sales were a record 33%
Discounted Distressed Homes were 39% of the market
National Median Home Price fell 5.2% to $156,100
It should be mentioned that this decrease came after three months of improved numbers. But if you think its getting better soon consider that…
one-third of all homeowners are underwater (owing more than their house is worth), and
the 2.9 million homes in some stage of foreclosure in 2010 are still sorting their way through the market.
Wondering what the real estate world needs now?
Well it's love sweet love from mortgage lenders.
But don't take my word for it.
NAR chief economist, Lawrence Yun expects an uneven recovery.

"Housing affordability conditions have been at record levels and the economy has been improving, but home sales are being constrained by the twin problems of unnecessarily tight credit, and a measurable level of contract cancellations from some appraisals not supporting prices negotiated between buyers and sellers," he said.

"The decline in price corresponds to the record level of all-cash purchases where buyers – largely investors – are snapping up homes at bargain prices," Yun explained.

"We'd be seeing greater numbers of traditional home buyers if mortgage credit conditions return to normal."

(Source NAR news release 3/21/11 at http://www.realtor.org/press_room/news_releases/2011/03/feb_decline with emphasis added).
Tired of waiting for mortgage conditions to change?
Consider the Owner Financing Solution
Many sellers are taking matters into their own hands and offering seller financing. For Sale ads and listings abound with the "Owner Will Finance" incentive.
And the news is noticing. Seller financing was recently mentioned in USA Today in an article entitled Home Sellers Pull Out All Stops To Attract Wary Buyers.
Regular readers know I love seller financing!
I bought my first house as a single mom with financing from the owner and later purchased a 4-plex the same way. Next it was acting as a seller offering financing to a new buyer.
Now my husband and I benefit from buying seller financed notes at a discount for long-term interest as a strategy to build our retirement accounts. Another option is to earn referral fees finding real estate notes for note buyers. (If any of these strategies sound interesting be sure to check out the free video mini-course on finding cash flow notes.)
Of course it's not without risk. The saying goes that you will pay for education one way or another. So it is best to invest in knowledge and seek help from competent legal and tax professionals upfront. You can also browse the articles here for more great free information including:
The Downside of Owner Financing – Disadvantages to Seller Financing
Owner Financing – 10 Advantages to Using the Seller Carry Back
About the Author: Tracy Z. Rewey has been helping sellers, buyers, and investors achieve their goals with owner financing for over 20 years. Grab your copy of her free report and newsletter at NoteInvestor.com. This article is copyrighted and available for reprint when a link to this site has been included.