Finding that perfect career can be one of those things you spend your life trying to stumble upon. Some people never find it, make the money they want, or have the flexibility they desire.
For others their search led to a discovery of the note business and they couldn't think of doing anything else. It empowers them to:
Set a flexible schedule
Determine their fees, and
Work from home.
Besides all the flexibility, a big benefit is the ability to start building a retirement account and possibly even transition into becoming an investor on your own.
I know that kind of career path may be hard to imagine, but many people like us, started "brokering" notes until they made enough money to eventually keep some for themselves.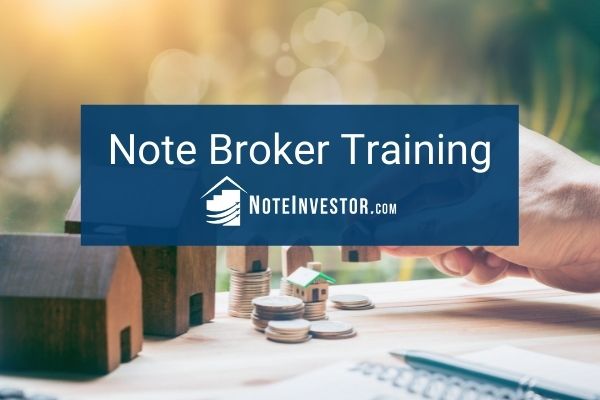 What Does it Take to Become a Successful Note Broker?
Like most business start-ups the recipe involves mixing knowledge, marketing, funding, and a growing industry with hard work, passion and persistence.
Brokering and buying notes is not a get-rich-quick business – frankly, we don't believe there is any such thing. No, the note industry is like any other business where you work for yourself – it does take work.
We think most people are not afraid to work. What they want most is to be fairly compensated for that work and have a bit more free time to spend with family, travel, and pursue their passions.
But before packing that laptop and planning to work from a beach somewhere, you are going to want to fully learn everything about the industry, who the players are, and how you may fit in.
Understanding the Cash Flow Business
The cash flow industry is a secondary market that helps turn future payments into cash now. It can be divided into three main areas:
Factoring Receivables – Business owners sell invoices to a factoring company for immediate payment rather than waiting on their customers for 30 to 60 days.
Insurance Based – People awarded payment on a structured settlement, annuity, lottery, casino jackpot winning, inheritance, or life insurance policy can receive a lump sum of money upfront.
Private Notes – Individuals or private entities providing debt financing on real estate, business, or other assets can convert the future payments due on a promissory note into cash today. This site is dedicated to the note business segment of the cash flow industry.
The Growth of Private Mortgage Notes
Seller financing is the major source of privately held real estate notes. The owner agrees to let the buyer make payments on the property instead of getting a traditional bank loan.
With the multitude of challenges our economy has faced the average John and Jane Doe have found it difficult to get a mortgage. Banks want bigger down payments, higher credit scores, and secure employment. These requirements have left over 50% of Americans under qualified for a traditional loan.
It's no surprise then that seller carry backs were up 7% in 2021 with over 89,000 notes created. (For a more detailed look just click here for statistics including a free PDF download).
How Note Brokering Works
A note broker or consultant acts as the financial matchmaker. They seek out note holders receiving payments and connect them with investors wanting to purchase notes.
The note buyer funds the transaction and pays a referral fee to the broker or finder at closing. A transaction is considered closed when the transfer documents from the seller to the investor have been recorded and the proceeds disbursed.
For a speed read, including the questions we get asked most, be sure to check out Learn The Note Business in 60 Seconds.
There are plenty of benefits to being a note broker including the ability to set a flexible schedule, work from home, earn while you learn, and build residual income using the time value of money. It also has a relatively low start-up cost of under $1,000 assuming you already have a phone and computer. That should also cover a professional website, business cards, and training.
As great as it all sounds and despite what some may claim, it is not easy over night riches. Before going further take just five minutes to check out the 5 Big Myths about the cash flow notes business. This type of misinformation was part of the motivation for creating this website.
We know it requires hard work and time to run a business so lets talk about what it takes to get started.
Marketing and Finding Note Sellers
Marketing is the lifeblood of any company. The number one time commitment will be marketing to find the note holders receiving payments. There are 5 main ways to attract business as detailed in our article on How to Find Cash Flow Notes and our Marketing for Notes Master Class.
Some methods like networking and reverse ad marketing require a greater commitment of time while ads and direct mail carry higher costs. No mater how you market it will take your time or your money… and you don't want to waste either!
Working with Note Buyers
Once you find the deals you will need access to note buyers. When starting out there are advantages to working with institutional type investors before venturing into the world of private investors.
When a seller accepts an offer and signs a preliminary agreement the investor will start the due diligence process. This includes checking for clear title, determining the property value, verifying payment history, reviewing the buyer's credit, gathering documentation, and making sure real estate taxes and property insurance are current.
Note Broker Training
While it's possible to earn while you learn getting a little knowledge up front can jump start your business, save a lot of time, and keep from wasting money. There are numerous options and your selection will likely come down to:
Experience
Cost
Content
Any quality training should include:
Proven Marketing Materials (not theory)
Scripts and Tips for Conversing With Sellers
Sample Transactions
Ready to Use Forms and Documents
How To Calculate Yield, ITV, and LTV
Ways to Analyze a Transaction for Viability
Underwriting and Closing Processes
Direct Access to Note Buyers
How to Own Notes For Residual Income
Believe it or not you can receive all of this in our Marketing for Notes Master Class for under $400. The power of the Internet now lets us share our 40+ years of combined experience with you in the comfort of your own home at an affordable price.
Of course there are other trainers out there and it never hurts to know your options. As you do your research be sure to ask these important questions.
How long have they been in the business?
Are the trainers well known and respected in the industry?
What sort of support system is there for asking questions? Does it cost extra?
Is there direct access to note buyers or will deals have to run through them?
What is the return policy if you are not satisfied with the course?
More Great Information for Note Brokers and Note Investors
If you want to know more about starting a note business then grab your copy of our free report "How to Make Money With Private Mortgages." Just enter your email address (in the sidebar at the top right of the page) and we will deliver it straight to your inbox.
We'll also send you our online newsletter filled with helpful articles and tips for buying or brokering notes. Here are some of our past articles you might enjoy reading: