Knowing how to find cash flow notes is the most important skill note brokers and buyers can learn.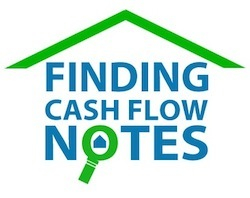 It can also be the most difficult. Why?
Well it can seem a lot like looking for the proverbial needle in a haystack.
The Challenge with Real Estate Notes
On average about 6% of residential real estate sales involve some sort of seller financing. And it's the seller carry-back that makes up the lion's share of the cash flow note business.
Now it can be more or less depending on where you live. It's also higher in a tough economy or with hard to finance properties (land, mobile homes, commercial, businesses, etc).
But that 6% has been a pretty reliable statistic for the 20+ years I've been buying and selling notes. I know six percent may seem like a small number but it can really add up.
Cash Flow Note Statistics
Just take a look at seller financed notes for the past 5 years. Over $113.8 Billion in 1st position owner financed real estate notes were created from 2015 through 2019.
That number grows substantially when you combine with second liens, non performing notes, business notes, and others not included in these statistics.
So how do you find the needle in a haystack?
Target Marketing – The Solution to Finding Mortgage Notes
It's a waste of valuable time and money to market your note buying services to the 94% of the population that don't hold a note.
To find cash flow notes you need a powerful magnet…and that's targeted marketing.
A marketing plan targeted solely to the needs of sellers holding cash flow notes is what will get your phone ringing and your pipeline full of deals.
5 Ways to Find Cash Flow Notes
In our business there are 5 preferred methods for locating deals. We cover this in more detail in the Marketing for Notes Master Class, but to summarize they are:
1. Ads – Using ads to find people receiving payments on real estate notes
2. Direct Mail – Sending letters or postcards to a verified list of note holders
3. Referrals – Networking with professionals to obtain referrals
4. Online – Building an online presence with websites, directories & SEO
5. Building Your Brand – Establishing yourself as an expert in your local area
Over the last two decades we have used a combination of all five methods.
So what's the best way to find cash flow notes?
Well that depends on three things:
1. Budget
How much are you able to spend on marketing? This is a huge factor when first starting out. For example direct mail is effective (if done right) but also expensive.
2. Time
How much time can you devote to the business? Reverse Ad Marketing and Referrals are low-cost but they take an investment of time.
3. Skills
What are your strengths and weaknesses? Do you already have relationships with existing real estate professionals? Are you great with computers? Do you like (or hate) to give presentations? This also impacts your selection.
So start with the 5 main methods, realistically assess your budget, time, and skills, and then make a marketing plan that is best for you.
You can also read these additional articles on Finding Cash Flow Notes:
Note Broker Questions: How Do I find Notes on a Budget?
Should I Visit the Courthouse to Find Cash Flow Notes?