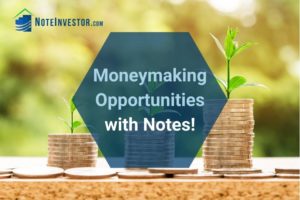 Whether a seller, investor, or note broker, there are many opportunities to make money with owner financed or seller carry back notes.  There is a lucrative secondary market for seller financed notes also known as the paper business. Here are a few of the most common ways people make money in the note business.
Maximize Selling Profits
A seller often takes back financing for a buyer to appeal to a larger group of buyers and maximize the sale price. A property seller may also elect to take back a portion of the sale price for long-term interest income.  Why should the banks make all the money?
Did you realize that a bank earns back almost 2.5 times the loan amount on an average $100,000 loan at 7.5% that runs for a full term of 30 years? The payment would be $699.21 based on a 360 month amortization which means the buyer will pay back over $251,715.60 after 30 years on the $100,000 loan.  All due to the power of interest!
Referral Fees
A note broker or note consultant earns a referral fee by acting as a financial middleman between a note seller and a note investor.  A note broker markets to note holders offering to help them liquidate their note payments for cash today.  The note broker then connects the note seller with a note investor, earning a fee at closing.  This fee can range from hundreds to several thousands of dollars depending on the size of the note and their relationship with the investor.   
Interest Income
Investors purchase notes for the interest income.  First an investor can earn the interest rate or face rate charged on the note.  An investor can further increase their return by buying the note at a discount.  For example if a note has a balance of $25,000 at 8% interest the investor can offer less than $25,000 to purchase the note for a return of 10% or more.  The greater the discount the more the return is increased!
Rather than holding for long-term interest income, an investor might also purchase a note at a discount and then resell at a later date for a profit.  This is often accomplished by combining several notes together in a group or portfolio selling at a higher price to a larger bulk investor.
Learn More About The Note Business
If you would like to learn more about being an investor or note broker you will also enjoy the following:
Learn the Note Business in 60 Seconds? – OK, you can't really learn the cash flow note business in just 60 seconds, but this "speed round" of 11 questions will certainly get you started.
5 Myths About the Cash Flow Notes Business – I want to have a very candid conversation about working in the cash flow notes business. Just what it is, how you may be part of it, and some common myths and facts.
How Can I Find Cash Flow Notes – Knowing how to find cash flow notes is the most important skill note brokers can learn. It can also be the most difficult.
21 Tips to Read Before Investing in Notes – Exactly, what is sounds like. You'll want to read these tips when getting started investing in notes.
Note Investing 101 Series – Watch this free series going over the basics of note buying.