Here's one reason to love real estate notes… surprise payoffs! For years we have been talking about the benefits of keeping some payments as residual income when buying, selling, or brokering notes.
This is not just theory – it really works.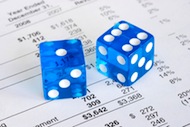 Need proof? Just last month we were fortunate enough to get one of those surprise payoff checks for $57,569.28! And that was on a note we sold back in May of 2000.
Now before you start thinking this is some sort of easy overnight riches please understand that this does NOT happen on every deal. In fact the average note broker fee is about 3-6% of the amount invested by the note buyer. (Check out How Much Money Will I Make in the Note Business for more on this topic.)
But when you combine the power of interest with time and the partial purchase there is an opportunity to earn residual income. How is this possible? Well here are the details from the initial note sale followed by the payoff update.
We were approached with a well-seasoned note secured by five retail strip mall type commercial units. The units had been purchased by a religious organization to use as meeting facilities. The particulars looked like this:

Sale Price: $135,000
Down Payment: $10,000
Original Balance: $125,000
Terms: 10% interest payable in 360 payments of $1,096.96 per month
Remaining Balance: $121,248.52
Remaining Term: 306 months

We negotiated to pay $92,804 for the full purchase of the remaining 306 monthly payments. We took a full assignment and purchased the entire note payment stream from the seller.

We then negotiated to sell a partial of 186 monthly payments for a purchase price of $95,046. We realized an immediate profit of $2,242 on the sale of the note AND retained the right to receive 120 monthly payments of $1,096.96 each commencing in 15 ½ years.

To recap:

Payments bought: 306
Payments sold: 186
Payments retained: 120

Money was made at closing but even better, we retained the rights to a future residual income stream totaling over $130,000 ($1,096 x 120).
If you have heard me speak at conventions this is the "Buy Full Sell Short" or "Tail-End Payments" strategy on the deal affectionately referred to as The Church Note. You also know there are three reasons I prefer to broker rather than hold church notes:
They are often single or special use buildings;
Income is dependent on donations from the congregation (so if the pastor runs off with the organist it's quite possible donations would go down); and
If they don't pay who wants to be the one to foreclose on a house of God?
So we were happy to sell this note, make a small fee of $2,242 at closing, and keep a future piece of the cash flow in the form of monthly payments when the investor's partial paid off in December of 2015. Instead it was, "Surprise – the buyer paid the note off early!" So rather than getting $1,096 per month for ten years we received the present value of those future payments in cash today.
Understanding The Partial Note Purchase and Schedule B Amortization
If you are scratching your head wondering, "How is this possible?", then it's time to discover the time value of money along with the Schedule B or partial amortization. It varies by partial agreement, but basically there are three balances or amortization schedules going on at any given time.
Schedule A – The full balance amortization owed by the buyer or payer
Schedule B – The partial balance amortization owned by the investor
Schedule C – The remainder interest due to the seller and/or note broker (or A minus B equals C).
At the time this deal was sold:
the full balance (A) was $121,248.52
the partial balance (B) was $103,515.87
and the remainder balance (C) was $17,732.65.
Then almost 12 years went by when the buyer paid off in March 2012 so the figures had changed to:
a full balance payoff (A) of $96,915.46
a partial balance payoff (B) of $39,346.18
and the remainder interest (C) had increased to $57,569.28!
(Now if you are following along with your Best Financial Calculator and 7 Tips for Calculating Cash Flow Notes you will notice some slight variations in answers. These are due to adjustments for extra payments and other servicing items. This is also a good place to mention that we don't provide legal, financial or tax advice so please seek the counsel of an attorney, financial planner, or accountant if you need this type of assistance.)
So the full balance and the partial balance went down as monthly payments came in but the remainder balance went up! Why? That is from harnessing the power of interest at the face rate of the note over time!
Want more advanced strategies and calculations for selling and buying mortgage notes? Be sure to login to the member's area of How To Calculate Cash Flow Notes. You can view step-by-step tutorials including the partial amortization schedule B from Mastering Partials for Maximum Profits.
Whether you are a note broker, a note buyer, or a real estate investor using owner financing, you can put these time value of money strategies to work!