So you are ready to make that final leap to financial control and purchase your own financial calculator! You want something that can efficiently calculate mortgages, notes, investments, and loans with ease – well, there are plenty to choose from.
The big question now is, "Which one?"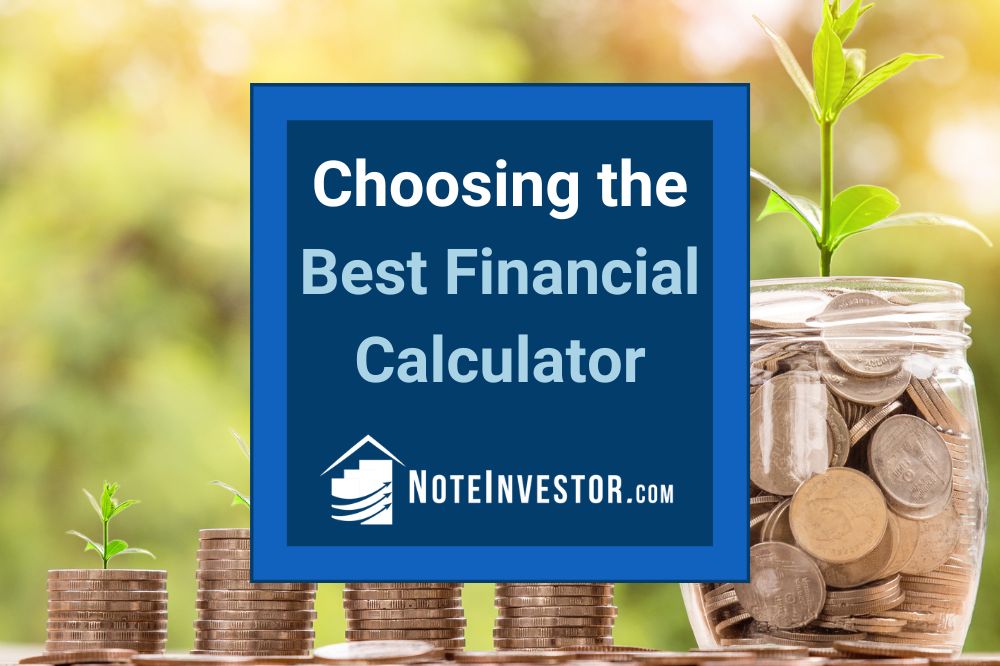 Many calculators can handle financial functions and some are much easier to operate than others. Here are the top three used in our industry. If you want to avoid the technical stuff just skip to the bottom and discover what we use personally!
The HP12C Financial Calculator
Clearly the industry's front-runner, the HP12C was THE standard for anyone in real estate for years and can still be found in most investors' desks.
The HP12C is very powerful but comes with some initial challenges. You may have noticed that it does not have an "equal" sign. The HP uses Reverse Polish notation so 1+1=2 would be calculated as 1 [enter] 1[+] (then you get the answer of "2"). The catch here is that if you don't already know how to use one, it may be worth skipping on to the next model.
The newest model has six times faster speeds for calculating TVM, loan payments, interest rates, standard deviation and more. Work more efficiently with memory for up to 80 cash flows. Ideal for real estate, finance, accounting, economics and business work. The HP 12C Platinum Financial Calculator
is a classic!  There are also HP12C apps available for your tablet, smart phone, or laptop.
The HP10B and TI BA-II Plus Calculators
Probably the most basic of the financial calculators, the HP10B (now the HP10B-II) or the TI BA-II Plus will get the job done.
Created in competitive nature, both deliver the basic needs of a financial calculator. Along with the standard capabilities of time-value-of-money, accrued interest, amortization, cost-sell-margin, and depreciation, users will calculate more advanced business and finance related issues.
If you are wondering what exactly the "plus" buys you in the TI BA II Plus model, you have to look pretty close (initially the only extra things found were keystrokes). The BAII Plus does allow differing compounding periods to payment periods. You can even calculate bonds to call as well as yield.
With that said, for basic workhorse  calculators, you can't go wrong with either the Texas Instruments BA II Plus Professional Financial Calculator
or the HP 10bII Financial Calculator
.
Texas Instruments Financial Analyst
This out of production calculator is still a favorite and worth keeping an eye out for at local garage sales and eBay.
In addition to great speed, the TIFI has a large screen that is capable of holding up to four different calculations simultaneously (Column A, B, C, and D).
Additionally, the TIFI can easily amortize any cash flow and give you the balance at any given point in time.
So, what calculator do we use personally?
Well Tracy always grabs the HP12C while I prefer the TIFI (yes a house divided). In the How To Calculate Cash Flows Training we demonstrate the keystrokes on an HP12C and the TValue Amortization Software.
Looking for More Info on Calculating Cash Flow Notes?
Try these articles on common calculations used for buying and selling mortgage notes: