The #1 Real Estate Investment Calculator for Note Buyers, Note Brokers, and Investors!
TValue™ amortization software no mortgage, trust deed, promissory note, or real estate contract is too complex, no investment is a mystery, no balloon payment is too hard to calculate, and no cash flow is unsolvable.
---
Knowledge is power! Savvy investors never rely on someone else to run their financial calculations.
Top 10 Reasons TValue™ software is a must-have tool for buying, selling, brokering, or investing in real estate notes:
1. Compare calculations with note buyers bids to assure you receive the best possible pricing.
2. Avoid common mistakes when calculating cash flow notes.
3. Use with your marketing offers to provide free amortization schedules to note sellers.
4. Negotiate partial purchases, tail-ends, and buy full-sell short strategies for enhanced yields.
5. Recast notes and run unlimited "what-if" scenarios for improved return on investment.
6. Calculate balloon mortgage note payments with balloon extension options.
7. Analyze complex calculations including interest only notes, uneven mortgage payments, and more.
8. Generate Schedule B amortization tables for early partial payoffs or split partials.
9. Create repayment plans for workouts and modifications on non-performing or delinquent notes.
10. Develop private investor relationships and self-directed IRA funds with professional printouts.

Save Now…
Note Investor Members get $22 off the retail price of $149.00
— for a total cost of only $127.00
Use Coupon Code: TVNOTE when checking out.
---
Solve All Financial Calculations Involving Time and Money!

Full Financial Calculator to
Solve Any Unknown:
Present or Future Value
Loan or Payment Amount
Current Balance
Interest Rate
Number of Payments
Down Payment
Yield or Investor's Return
Pay Price
Partial Amortization Schedules
APR, Truth in Lending (Reg. Z), Dodd-Frank Disclosures
Discount Value

Handles All Mortgage
Payment Schedules:
Interest Rate Changes
Uneven Payments
Interest-Only Payments
Fixed Principle Plus Interest
Skip Payments
Amount or Percent Step
Balloon Payments
Principal Only Pay Downs

The Standard for Financial Calculations
---
While the note business is a niche market this software is mainstream. The Top 100 accounting firms and more than 500,000 financial professionals worldwide rely on its accuracy and flexibility in generating detailed amortization schedules.
TimeValue Software™ TValue™ amortization software is the best and most accurate amortization software, and proven industry standard for accurately structuring notes, mortgage payments, interest calculations, and any time value of money computation.
Accurate and Easy to Use Financial Calculator
Join other note business and financial professionals who rely on the accuracy and ease-of-use of TValue amortization software. The TValue program is perfect for computing mortgage payments, checking interest due on a note, determining the payoff amount, or calculating the yield of a real estate note investment. TValue software will even calculate the most complex cash flow notes, including partial purchases, split payments, uneven payments, interest only, and balloon payments. See an example of the financial calculator at work in the screen shot below.
A. Print amortization schedules and APR disclosures in seconds.
B. Choose the right compounding or rate period from the list of 13 methods.
C. Select Special Series for unique payment options, including interest only, fixed principal plus interest, monthly skip, and more.
D. Set payment periods independent of compound/rate periods.
E. Payments can be irregular in amount and occurrence.
F. Enter events such as loan/payment, lease/lease payment, deposit/withdrawal, invest/return or customize event names.
G. Computation options include normal amortization (compound interest), U.S. Rule (simple interest), Rule of 78, Canadian amortization, and 360, 364, or 365-day year lengths.

Save Now…
Note Investor Members get $22 off the retail price of $149.00
— for a total cost of only $127.00
Use Coupon Code: TVNOTE when checking out.
---
Create Perfect Amortization Schedules and Tables in Seconds
Detailed reports provide the interest and principal components needed to print amortization schedules and APR disclosures in seconds! Totals can be displayed at selected intervals and TValue amortization tables can be easily exported to Microsoft Word or Excel.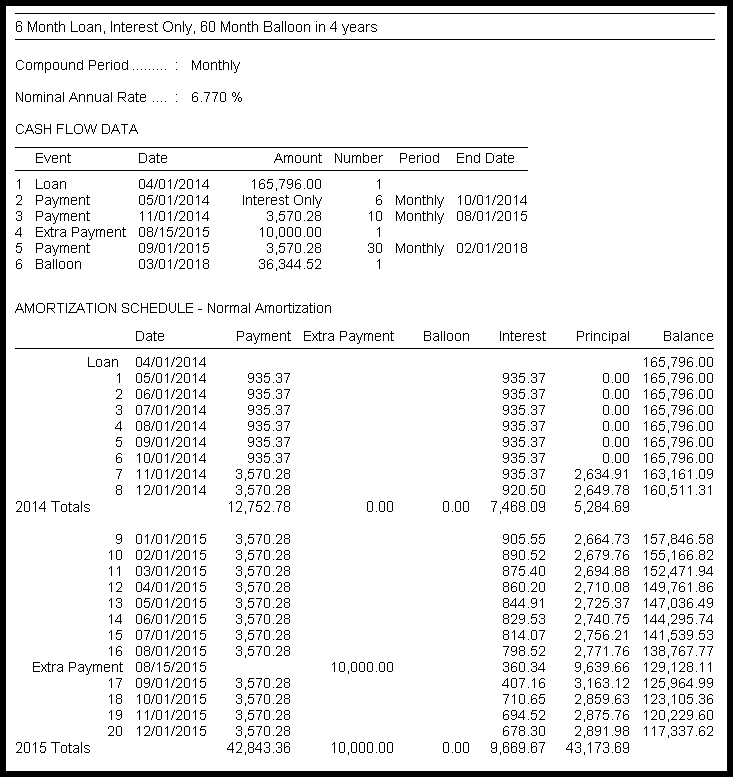 Custom Real Estate Investing Reports
Verify promissory note balances and print payment schedules
Document irregular payments, balloons, and rate changes
Select any level of detail from summary to full schedule
Insert optional headers and footers for personalized branding
Determine year-end interest payments for 1098 reporting
Print a limited date range
Export to Microsoft Excel and Word with one-click
Calculate investor notes with multiple loans and payments
Calculate savings requirements for future retirement goals or self-directed IRA investing
TValue Software Versus the HP12C, HP10B, Texas Instrument, and Other Financial Calculators
The hand-held financial calculators are great options for computing on the go but they have their limitations. It is very easy to make errors by entering the wrong value into one of the keys. Most people find uneven cash flows to be difficult on traditional calculators. Without a visual recall it's common to lose track of the input and the accuracy suffers.
TValue software allows you to save and print your calculations for review and future edits. The good news is anyone familiar with the HP12C, HP10B, or TI BA-II Plus will find the input on the TValue software very similar to the keystrokes on these handheld financial calculators.

Benefits of the TValue Calculator Over Excel Software
---
While "doing it yourself" in Excel spreadsheets is possible, there are significant reasons why it's better to use the TValue™ amortization software. When it comes to notes, loans, payments, rates of return analysis, and other time value of money calculations, flexibility is paramount. Excel is based on writing formulas and there is always room for user error. On a complicated transaction, you can work on an Excel spreadsheet for too long only to discover that you have bad data or an error in a formula or worst yet you may never know there is an error. There is a better solution.
Faster, accurate, and easier to use.
TValue Software only takes a couple of line items to structure a deal or analyze a return.
Amortization Schedules in seconds.
Schedules for documentation are generated instantaneously for viewing, exporting, and printing.
Handles Simple to Complex Situations.
Calculation logic is already included and ready to handle the simple to the most complex.
Error Free Calculations.
You can have confidence in the numbers as TValue Software calculations are based on embedded algorithms, not writing formulas. If the amounts and dates are right, you know that the calculations will be correct.
Solve for "What If" Calculations.
You can quickly and easily do multiple "what if" scenarios in minutes and find the best solution quickly. You can easily and quickly solve for the interest rate, the payment, the loan amount, or the term.

Save Now…
Note Investor Members get $22 off the retail price of $149.00
— for a total cost of only $127.00
Use Coupon Code: TVNOTE when checking out.
---
An optional annual maintenance service is available when ordering product at the cost of $35. The TValue software annual maintenance service includes future updates and upgrades, unlimited product support, and access to the 75+ TValue software online training videos.
As a real estate investor, note buyer, note broker, or financial professional, you need to choose and rely on a tool that is accurate, easy to use, and gives you the documentation you need.
System Requirements for TValue Software Version 6:
Computer: 1 GHz or higher
Operating System: Windows 7 SP 1 or higher
Memory: 1 GB or higher
Hard Disk Space: At least 400 MB free disk space.
Software will be delivered online as a download after purchase.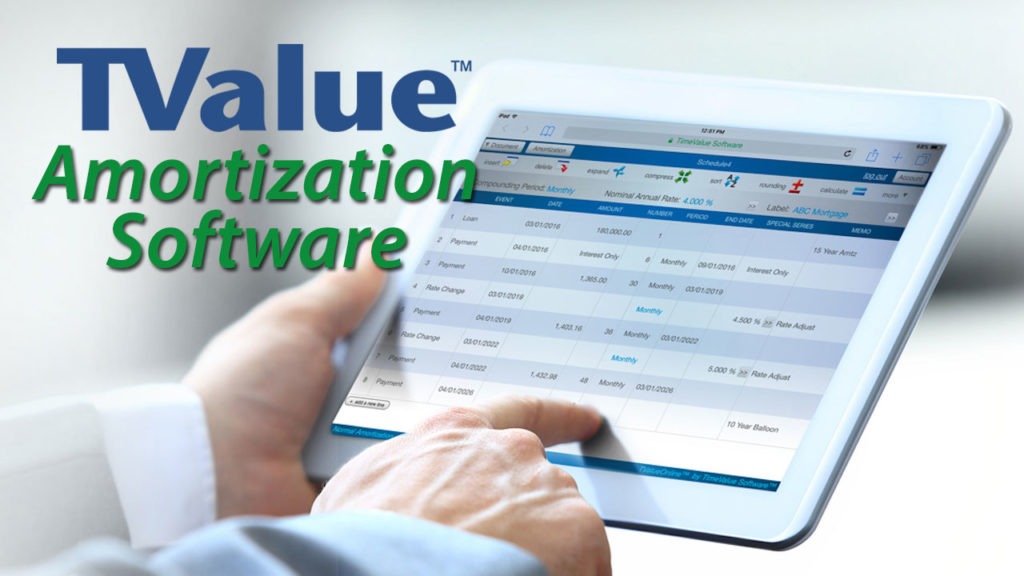 Don't fit the above requirements (looking at you Mac Users)? We've got you covered with Online Subscription. Use the TValue software in the browser of your choice, no download required.
---
Save Now…
Note Investor Members get $22 off the retail price of $149.00
— for a total cost of only $127.00
Use Coupon Code: TVNOTE when checking out.