Want to market your note business online but don't know where to start? You are not alone!  With over 1 billion web pages created daily the sheer volume of information can be overwhelming – paralyzing even!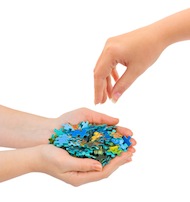 Since going online with our first note buyer website in 1998 a few things have changed.  So here's our checklist for finding notes and marketing your business on the Internet in 2012. (Be sure to check out our audio interview at the end of this article!)
7 Essential Tips For Marketing Your Note Business Online
1. Build A Website
Websites are the new storefronts with close to 80% of the U.S. population using Internet services (Source: Internet World Stats)! The good news is a website is much cheaper than office space, with great web design options available for under $500.
With over 110 million search results for just the phrase Note Investor it takes targeted Search Engine Optimization (SEO) strategies to obtain decent rankings in organic search. You'll still need to market in other ways to drive traffic from note holders (read the 5 Ways to Find Cash Flow Notes) but starting with a professional website is a must.
To get started check out these resources for more details:
– How To Build a Note Business Website in 7 Steps
– Video on Building a Winning Cash Flow Business Website
2. Create Content
Writing helpful and conversational articles will go a long way in building relationships with note sellers and real estate investors. Article writing or content marketing has multiple uses and benefits including:
establish yourself as an expert
provide value to clients
keep the website fresh and boost SEO with new content
submit to article directories like Ezine or Article Base
include in a newsletter
email to subscribers, or
use for exposure as a guest writer on another site.
Our goal is to add something new to a website once a week with once a month the minimum. Content is king and adding new useful relevant information is the single best thing to improve your website rankings and traffic!
3. Cultivate an Email List
Start building an email list to communicate with (not spam) current or potential customers. The easiest way to accomplish this is with an opt-in or sign-up area on your website.
Encourage visitors to subscribe by offering a free report or newsletter on your industry or area of expertise. This can be integrated with either a paid or free version of email marketing software. Personally, we like to use Aweber for building a list of subscribers due to its many features including auto responders and newsletter templates but there are also free versions out there like Mail Chimp.
4. Submit Directory Listings
When you need to find a phone number or address where do you go? You are more likely to use the printed yellow pages for a doorstop or a booster seat then you are to look something up.
Online directory listings are quickly replacing the phone book, a trend that is only increasing with growing use of smart phones. There are thousands of directories where you can list your note buyer company contact information and website (and even better most of them are free)!
5. Utilize Google Places
"97% of consumers search for local businesses online!" That comes straight from Google®, the Big Daddy of search engines.  Place Pages provide a free listing containing contact information for your business which is used to serve up results for local search and place you as a "pin" on the maps. In fact it's not unusual to see a Google Places page showing higher in the rankings than a company's own website. Create your listing by following the steps in the article How to Use Google Places for Your Note Business  and encourage customers to leave reviews through Google+ Local.
6. Place Online Ads
An effective form of online advertising are the sponsored ads that show at the top of popular search engines like Google, Yahoo, and Bing. Known as Pay Per Click (or PPC for short), you only pay when someone clicks the link on the ad to your website. These can get fairly expensive depending on the competition for the search terms or keywords being used. It pays to set a budget and target very specific local or buyer related keywords.
Another option that lets you dip your toes in the world of online ads are free advertising sites like Craigslist. You'd be surprised how a simple free ad can help promote your services. Other popular options include Ebay Classifieds, Classified Ads, and Penny Saver USA. There are literally thousands of these sites, which you can find by searching for free online ads.
7. Get Social
If you thought social media was just a fad, guess again – it has turned into a real business and real money. All of the opportunities to be social can make it hard to get any work done!  So where do you focus your time?  Well our suggestions look similar to our article in 2010 (see Finding Cash Flow Notes – Does It Help To Get Social?):
Facebook
LinkedIn
Twitter
YouTube
Industry Related Forums
Press Releases
Social Bookmarking
(Editor's Note: Google, LinkedIn, Facebook, Twitter and other Social Media sites are registered trademarks of their respective companies. This author, company, and website are not endorsed by or affiliated with said companies.)
There are thousands of social bookmarking and sharing sites so it really pays to do your homework. As a note broker and small business owner you probably already wear too many hats. The last thing you need is a big time drain that doesn't bring results. Think about note holder demographics and then match that up with the social sites that attract a similar group of people.
Consider this list the bare minimum for marketing your note business online. With the exception of building a website, most of these can be done for free with an investment of your time.

For more details and how-to tips be sure to listen to the audio of our interview on Blog Talk Radio with Lisa Moren Bromma at http://www.blogtalkradio.com/wisewomenradio/2012/09/11/tracy-z-rewey–10-ways-to-market-yourself-online!
Discover how Note Investor reached the number one position in online search at our upcoming live workshop at the 2012 NoteWorthy Convention in Las Vegas Octo 25-28, 2012.