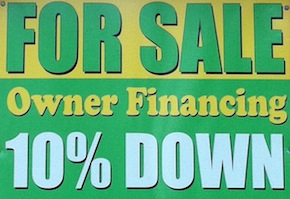 When a seller allows a buyer to make payments over time for the purchase of property, it is known as owner financing or seller financing. This private financing by the seller can take the place of a bank loan or be in addition to a conventional mortgage.
The payment amount, interest rate, and other terms are agreed upon between the buyer and seller. The amount financed by the seller will depend upon the buyer's down payment and whether there are any bank loans.
An Example of How Seller Financing Works
An owner advertises his or her house for sale, either on their own or through an agent. A buyer makes an offer, and they agree upon a sales price of $175,000 with a 10 percent down payment of $17,500.
Rather than requiring the buyer to obtain a bank loan, the seller carries back the balance of $157,500 in the form of a note and mortgage. It could also be a note and deed of trust or a real estate contract, depending on the customary documents for that state. A title company or real estate attorney is often used for the closing.
The note spells out the terms of repayment. In this case they agree upon 8.5 percent interest at $1,211.04 per month based on a 360-month amortization. The seller doesn't really want to wait a full 30 years for payments, so the note requires payment in full, known as a balloon payment, within seven years.
Because the buyer is making payments to the seller rather than an institutional lender, the legal arrangement is called a private mortgage, seller carry-back, or owner financing. The seller has the same mortgage rights as a bank, so if the buyer does not make payments, the seller can foreclose and take the property back.
Should the seller prefer cash today rather than payments over time, the rights to future payments can be sold or assigned to a note investor on the secondary market.
5 Reason Sellers Offer Owner Financing
Why would a seller allow a buyer to make payments over time for the purchase of property? Here are five reasons sellers consider financing property rather than requiring the buyer to obtain a bank loan…READ MORE…
Owner Financing – 10 Advantages to Using the Seller Carry Back
The word is out and seller financing is on the rise as buyers and sellers look for creative ways to finance property in the struggling market.
So what's all the hype? Here are ten advantages to using the seller carry back to buy or sell real estate…READ MORE…
The Downside of Owner Financing – Disadvantages to Seller Financing
What's old is new again and the credit crisis, struggling economy, and declining real estate market are making seller financing the come back kid of 2011.
Offering to owner finance a property can attract buyers and even save transactions as banks increasingly stamp "DECLINED" on mortgage applications. Before you agree to "Be the Bank" carefully consider the downside to providing creative financing…READ MORE…
Money Making Opportunities with  Notes
Whether a seller, investor, or note broker, there are many opportunities to make money with owner financed or seller carry back notes.  There is a lucrative secondary market for seller financed notes also known as the paper business. Here are a few of the most common ways people make money in the note business….READ MORE…