When people start a business as a "broker" in the note industry, they are often focused on the little things.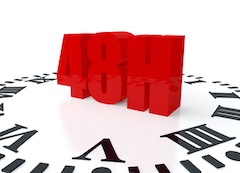 What should the company name be?
What about a logo?
What should my business cards look like?
How do I find quality note buyers?
What about a website?
All of theses items are important, but they often take people weeks, or even months, to complete.
The fact of the matter is each of them may seem important and certainly have some weight in the creation of your business; but they won't make or break you. Certainly not to the extent that you should be spending countless hours on them.
I made this mistake when I started. Sure you can say it all worked out in the end, but I wasted a lot of time in the beginning (including building a $4500 computer that I thought would "help" me be more efficient).
At least 75% of your day-to-day efforts should be focused on marketing for cash flow notes.
It doesn't matter how many funders you know or how nice your stationery looks, if you don't have a deal, none of it matters.
So, if you are starting a note business, or still trying to get yours off the ground, here are my tips for getting the little things off your plate in the first 48 hours.
Company Name
Just pick something already. Personally I like the words "Funding" or "Cash Flow" in the name – but certainly don't stick to that if you have a good idea. More importantly, don't come up with something too cute.
You are in the money business and helping with a financial sale. If your name is too cute, sellers are going to move on to someone else.
*Also see Websites (below) to help come up with a name.
Logo
I can't say that a logo has ever helped someone close a deal in the note business. If you are a visual person and just need to have one, jump over to Fiverr.com and have someone make you a couple of choices for $5. Pick out a winner, get a JPG and PNG file of it and move on to the next item on your list.
Business Cards
VistaPrint.com is cheap and has plenty of templates to choose from. Spend the extra couple bucks and print something on the back like, "I buy real estate notes."
Funders
You can find plenty of them online, but it is hard to separate the good from the bad (or even worse, find out that you are working with another broker who has a fee in the mix).  Check out the article on Finding the Right Note Buyer for more details.
[Insert Shameless Plug Here] – If you are in the Finding Cash Flow Notes Training class you get the latest edition of the Funder Directory at no extra charge. Otherwise, you can pick up a stand-alone copy in the bookstore.
Websites
You probably won't build a note website within 48 hours, loaded with features and content unless you buy one from NoteBuyerSites.com. But you can pick out a URL (web address) from GoDaddy, Name Cheap, or other domain registrar.
Try and find a URL that matches your company name and includes a note buyer keyword. Matter of fact, you might want to START with the URL and let that determine your company name. For more details on domain names check out How to Build a Note Business Website.
In my opinion, for more reasons then we'll mention here, you are going to want a site created on the WordPress foundation. Search engines love WordPress and there are a lot of easy-to-use themes for a great price.
Last note: Don't get a "free site." Buy the URL and get independent hosting.
Now what?
There, you have taken care of the "little things" that can often really slow someone down when it comes to setting up your note business. Now you can focus on what really matters to the bottom line; Finding Cash Flow Notes!