Looking for marketing expertise? Lisa Moren Bromma has been finding cash flow notes for over twenty years.
In addi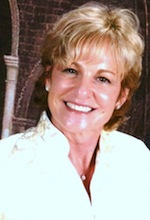 tion to buying real estate notes as a private investor she has provided marketing consulting to the nation's top institutional note buyers.
The author of several acclaimed books published by McGraw Hill and a past board member of the National Association of Real Estate Investors, she will wow you with her knowledge and dynamic presentation skills.
To know Lisa is to have met the "Ever Ready Bunny" in person.  She is non-stop energy that would give any three-year old a run for their money. I'm honored to call her a friend and business associate. Oh, and if you ever catch her at a Piano Bar make sure to request her killer rendition of Hey Jude!
An Interview With Lisa Moren Bromma, Real Estate Investor and Note Buyer
What is the current focus of your company?
My focus is creating dependable passive income using both real estate and notes.
I am currently looking for a mobile home park where I can add additional homes that I sell on terms, and then continue to receive monthly lot rents, which will help accomplish my goal.
I have bought, sold and traded real estate assets and continue to believe that the combination of real estate and notes can help me and my business achieve its goals.
How did you get started in the note business?
I moved to Asheville, NC area in 1988 to semi retire. I thought I would acquire real estate investments in NC. I went to a local REIA (Real Estate Investor Association) and met people in the note business that introduced us to paper. We learned the business by going out there and doing it. I have continued to buy seller-financed mortgage notes since my days in NC.
What unique benefits does your company provide?
I am not an institutional investor. I do invest for my own account, and occasionally lend money privately out of my IRA to real estate investors with a track record. I have been doing a lot of equity participation deals lately where I receive income and have the potential of future appreciation at the time of sale.
I have two companies. Ocean Park Marketing, LLC provides marketing and consulting services to the financial services and real estate investment communities.
Wise Women Investor is devoted to helping women achieve their financial goals through real estate and cash flow investing. I have a radio show through Wise Women Investor where I feature experts to share tips and strategies to help other succeed. Recently, Tracy Z Rewey joined me on our show.
What type of real estate notes or deals do you like to target for your own investment?
I like both residential and commercial as long as the ITV makes sense. In commercial the ITV must be below 50%. I buy partials. I do not buy land or personal property notes.
What do you consider your best methods for finding note deals?
I like a combination of Internet and direct marketing, networking and teaching potential strategic alliances how to create marketable paper.
I am a big believer in working with third-party referral sources such as Realtors, Estate Attorney's and CPA's. I have developed programs that target these audiences specifically, including a CE program that helps professionals understand the benefits of why seller financing makes sense in today's market, and these professionals get continuing educational credit hours towards keeping their licenses current.
I frequently attend real estate investor meetings in my local marketplace, as they can be a great source of notes and real estate.
I have written 3 books published by McGraw Hill. This establishes me as a credible expert with professional audiences. I use them as I would a business card.
You are well-known in the business as a leading marketing expert and consultant. What are the first things you look for when evaluating a marketing plan?
Thanks for saying this. I look to see if my potential client is really addressing the needs of the market.
Is their plan specific, measurable, achievable?
Are their goals realistic?
Do they know who their competition is?
How have they positioned themselves in the marketplace?
What about building their brand?
How do they get their word out and make sure to be remembered?
Finally, I look to see if they develop a unique selling proposition to make sure the message they want to deliver is one that will resonate with the prospect.
What advice would you give new professionals just starting out in the note business?

Know your stuff.
Get educated.
Develop a network of experienced players in the industry.
Make sure you know how to use a calculator and how to submit a package that an investor will bid on.
Do not be afraid to get out there and market. Always present yourself as a professional.
You can make money or you can make excuses but you can't make both. When starting out, make no excuses, do what it takes to get you in the trenches, knowledgeable and confident that you have found your niche.
How you present yourself is directly related to your success in this business.
What is the most common mistake you see note brokers make?
Not addressing the needs of the note seller. Frankly, most brokers want to tell them all about their company and themselves, when in fact the conversation should be about them the seller, not you the broker. Also, don't rely on one option, one solution. Be in a position to offer multiple solutions to the seller's problem. People do business with people they like and trust. When you are working for them, they will trust because you are responding to their need. Realize you will not close every transaction, and that is ok. Just keep marketing!
Given the economy, have you made any changes in the way you buy notes or real estate?
Yes, I am very careful with my own account. I not only do due diligence on the deal, I also research the market where the deal is coming from to see if it makes sense for me to invest in a market with little or no potential for improvement over the next few years. Right now I am only buying in Florida where I live or in markets where I have someone on the ground to assist me in my due diligence. I only buy notes on properties I would be willing to own.
Where do you see opportunity?
I see multiple opportunities. I believe seller-financing will continue to grow as our economy continues to be volatile, and banks will continue to be tight on lending. The foreclosure problem is real. To me it means real estate is on sale. There will always be situations where the seller must sell, and not necessarily for financial reasons alone. I look at the market like many did in the mid 80's. People will have to create paper in order to sell a home.
Where can someone contact Lisa Moren Bromma?
My website www.wisewomeninvestor.com people can reach me there or through lmorenoceanpark@gmail.com
I am happy to answer any questions.
Is there anything else you would like to share?
The note business is not a get rich quick business. It takes education, perseverance, and patience. You must always be marketing and learning what others, investors and sellers require of you. If you treat this as a business, with the respect it deserves and if you are not afraid to go outside the typical channels of marketing, it is my belief you will be successful.
If you are investing for your own account, remember that no one will care more about your money then you. Be extra careful before you buy.