Investing in real estate has long been a popular choice for investors looking to grow their wealth and secure their financial future. However, there's another lesser-known investment opportunity that offers several advantages over traditional real estate…
Investing In Private Mortgage Notes.
Real estate note investing involves purchasing the debt obligation from the note holder and earning returns from the interest and principal payments made by the borrower on the note.
You have probably seen a "For Sale Buy Owner" along with an "Owner Will Finance" sign.
This typically means the seller of the property will act as the bank… and carry the debt using seller financing. Often, at a later date, the seller or note holder would love to 'cash out', and that is where we come along.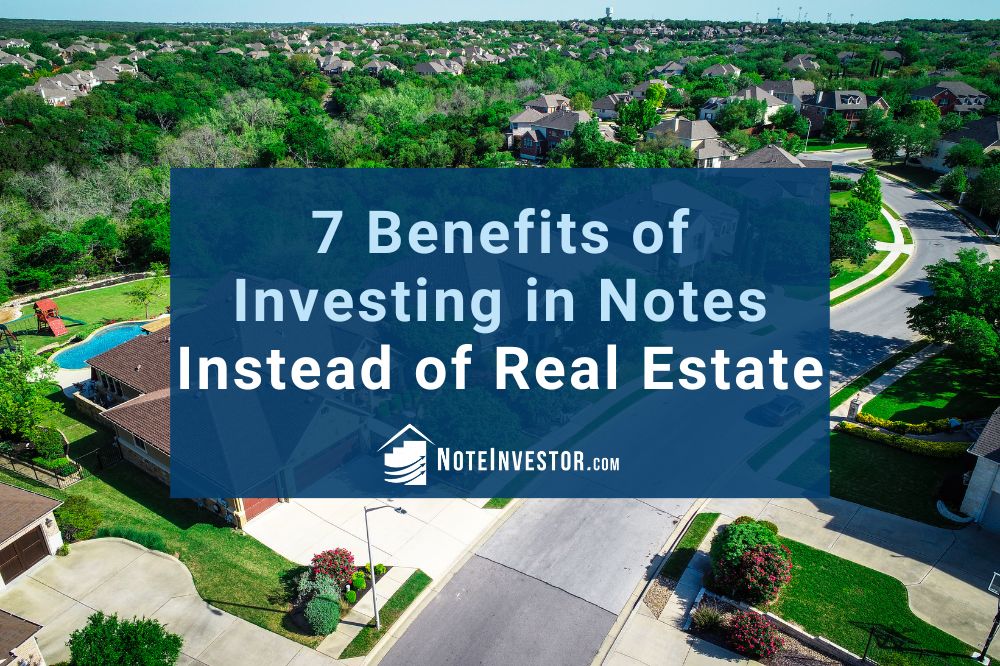 7 Reasons Why [Right Now] Investing in Mortgage Notes is Better Than Real Estate
Here are seven reasons why investing in mortgage notes can be a better option than investing in physical real estate (especially in today's market).
1. Passive Income Stream
One of the most attractive aspects of mortgage note investing is the potential for passive income.
When you invest in mortgage notes, you become the lender, and borrowers make regular payments to you.
This provides a consistent and predictable income stream without the hassle of property management, maintenance, or dealing with tenants (think monthly payments without the emergency texts from renters). Passive income can be a great way to build wealth over time with minimal effort.
2. Lower Entry Costs
Real estate investment often requires a substantial upfront cost, particularly in today's market, including down payments, closing costs, and ongoing expenses like property taxes and maintenance.
In contrast, mortgage note investments typically have lower entry costs, allowing you to diversify your investment portfolio without tying up large amounts of capital. This makes it more accessible for novice investors or those with limited funds. Additionally, you can purchase notes from a self-directed retirement account for financial benefits or use the partial purchase for flexibility beyond the full purchase.
3. Reduced Risk
Investing in mortgage notes can offer reduced risk compared to physical real estate investments.
When you hold a mortgage note, you have a secured interest in the property, which means that if the borrower defaults, you can potentially foreclose on the property and recover your investment. Part of note investing is setting limits on how exposed you want to be by managing your Investment To Value (ITV).
4. Geographic Flexibility
Investing in real estate often ties you to a specific location, which can limit your investment opportunities. Mortgage notes, on the other hand, can be obtained from various regions or even different states. This geographic flexibility allows you to diversify your portfolio and take advantage of opportunities in areas with strong real estate markets or more affordable housing.
5. Reduced Operational Hassles
Real estate investments come with various operational responsibilities, including property maintenance, tenant management, and dealing with property-related issues. Mortgage note investing eliminates these hassles, as you're not responsible for the property's day-to-day operations.
This frees up your time and reduces stress associated with property management. Even the handling of the monthly note payments can be turned over to a licensed third-party servicing agent for a reasonable fee, freeing up your time and offering a passive income stream.
6. Liquidity
Mortgage notes are generally more liquid than physical real estate. You can buy and sell mortgage notes more easily and quickly than selling a property, which can take months or even longer in some cases. This liquidity allows you to adapt to changing market conditions and capitalize on opportunities in real-time.
7. Diversification
Diversification is a key strategy for minimizing investment risk. By adding mortgage notes to your investment portfolio, you can achieve greater diversification by spreading your risk across different asset classes. This reduces exposure to any single market or asset class, making your overall investment portfolio more resilient.
Ready to move forward?
While traditional real estate investing can be a viable wealth-building strategy, investing in mortgage notes offers several advantages that make it an attractive alternative.
With lower entry costs, passive income, reduced operational hassles, and the potential for reduced risk, mortgage note investing is worth considering for those looking to diversify their investment portfolio and generate consistent returns without the headaches of property ownership.
Don't know where to get started? We are here to help! Check out these helpful note investing resources: