Just What is a Note Appraisal and How Can it Help My Note Broker Business?
I just finished up an Opinion of Value for a real estate note down in South Florida. It was the second request for a fee based note appraisal in the past several weeks, a service that has been growing in demand.
These requests primarily result from our networking efforts and presentations at Real Estate Investment Clubs and Self-Directed Retirement Account educational workshops. Since it is fresh on my mind it seemed a good time to share some insights on using Note Appraisals in your note business.
The Free Note Broker Appraisal
Offering a free note appraisal is a common call to action in note broker marketing materials.
In reality this free evaluation is more appropriately called a note analysis.
It is really a simple one-page letter that outlines an offer for the purchase of a note. It helps the note holder know what the cash flow is worth to a note buyer in today's dollars on the secondary market. If you are using this type of note analysis your goal is to eventually buy the mortgage note and earn a referral fee in the process.
Professional Fee-Based Note Appraisals
A professional note appraisal takes the form of a written report ranging from 5-10 pages with additional content in the appendix containing supporting documentation. It is an independent and unbiased evaluation of the present cash market value of the real estate note.
Fees range from $175-$350 depending on the complexity of the assignment and property serving as collateral. An attorney, financial advisor, personal representative of an estate, bankruptcy trustee, or retirement account administrator will often use them to help determine a fair market value.
Note Analysis or Note Appraisal – What's the Difference?
A true professional appraisal is performed by a qualified third party with no personal interest in the transaction. This is part of the certification language used in most note appraisal reports.
If you are trying to buy that note at a discount and earn a fee it is safe to say you have a personal interest. So play it safe and don't accept assignments for professional fee-based appraisals on notes that you also want to buy or refer for a fee. If that is the intent then stick with the Note Analysis and offer letter.
Factors Affecting Real Estate Note Values
So how is the value determined for either a note appraisal or analysis? Well pricing is determined by a number of factors with these playing the star roles:
Payer's Credit Profile – a credit history on each payer or maker obligated for repayment.
Collateral – type of asset, condition, and location of property serving as collateral.
Down Payment/Equity – the current unpaid balance of all amounts owed on the property compared to the current value of the collateral.
Seasoning – history of payments made including timeliness and duration.
Terms – terms of repayment including frequency, payment amount, interest rate, balloon payment, and/or special provisions.
Documentation – sufficiency of documentation supporting the transaction.
Substantiating the Note Valuation
If you have 20+ years in the note business you have a pretty good feel for how the market will react to the factors affecting value.
But if you are just starting out or need a second opinion what's the best way to proceed?
A simple solution is to request quotes from 3 respectable note buyers. Think of these as "comparables" similar to what is used in a real estate appraisal or BPO (Broker's Price Opinion).
What Goes Into the Evaluation Report?
While there is no uniform standard, a solid report will contain these elements:
Description of the Promissory Note
Description of Collateral Property
Purpose of Evaluation
Definition of Present Cash Market Value
Information and Documentation Provided for Valuation
Analysis of Information
Assumptions and Limitations
Final Opinion of Value
Certification
Professional Resume
Appendix with Supporting Documentation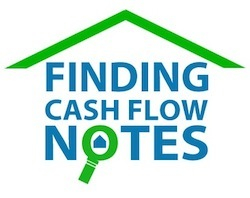 Want more information on using Note Appraisals for your Note Broker Business?
We have posted a sample Opinion of Value for a Real Estate Note over in the Member's area of the Finding Cash Flow Notes Training!