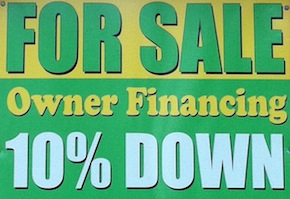 This month's owner financing real deal comes from our email inbox. Chances are this simultaneous closing question has been on your mind too.
Question: I'm a rehabber in Florida and would like to have a company to work with that helps me qualify buyers, structure notes and then buy the notes from me as an exit plan for my rehab properties, either at closing or shortly after. Are you doing or know of anybody doing simultaneous closings anymore? If not, after how many payments will you buy on a "green" note?
Response: You ask a great question pertaining to the simultaneous or simo closing. There has been a shift in the marketplace and most investors are avoiding the true simultaneous closing due to three primary reasons:

1) Dry-up of subprime securitization funds on the secondary market

2) Tightening underwriting standards due to increased foreclosures and decreased values

3) Regulatory concerns that a simultaneous purchase might be construed as a loan (especially in light of recent developments like the HUD Safe Act, HR 4173, and the Dodd-Frank Act)

The closest thing is what some investors call a "near simo" where an investor buys after closing once the deal is recorded and the first payment has been remitted to the seller. Many investors are also limiting their exposure on new or green notes to a partial purchase at a 50-60% ITV until the payer has a proven payment history.
This reader already had a good foundation of knowledge with access to the structuring tips contained in Finding Cash Flow Notes to help create mortgage notes that are marketable to an investor. If any of the terms are new, here's a quick overview:
Green Note – a new note without a proven payment history.
Seasoning – the number of payments that have been made on a note.
Simultaneous Closing – The property is sold to the buyer, a seller financed note created, and the note assigned and sold to an investor, all through the same closing.
Near Simo – The property sale is closed and the documents recorded in the county records. The investor purchases the seller carry back after a certain amount of time has passed (generally ranges from 3 to 30 days and varies by investor). Note buyers may also require proof the first payment was made to the seller.