By now you no doubt have some type of web presence for your note buyer business.
Whether you are broker or investor, even the simplest website can work for you 24/7, provide leads, and gain you valuable credibility.
But what about an ongoing conversation that keeps you relevant and in their minds?
Social media marketing is certainly a key part of that, but not as easy for the note buyer or broker.
How often should you share info?
What information should you share?
Where do you share?
On Facebook, Twitter, Instagram, LinkedIn, etc., etc.?
The answer to these questions is not as hard as it may seem. Matter of fact, when we pull back the curtain, you may wonder why you have not jumped in sooner.
First off…what is 'social media?'
One common definition is…
"Social media is the collective of online communications channels dedicated to community-based input, interaction, content-sharing and collaboration."
Great…what the heck does that mean to ME?!
Basically, it is just a method of communication, often back and forth, in relatively real time.
Used correctly it can provide great exposure for your business or your brand.
But what do you talk about?
Well, here is where it gets a little tricky for people in the Note industry but don't worry, we are going to unravel the mystery.
If you were in the cupcake business, it would be easy. You would simply share mostly pictures of cupcakes. Share enough of those…people are going to purchase your tasty treats.
If you sold cars for a living, you would simply post pictures of cars you had for sale. Nice pics and some descriptions.
Social Media Marketing For Note Buyers
For the note industry, it is a little different. We need to look at the SELLER of a note and think what might interest them.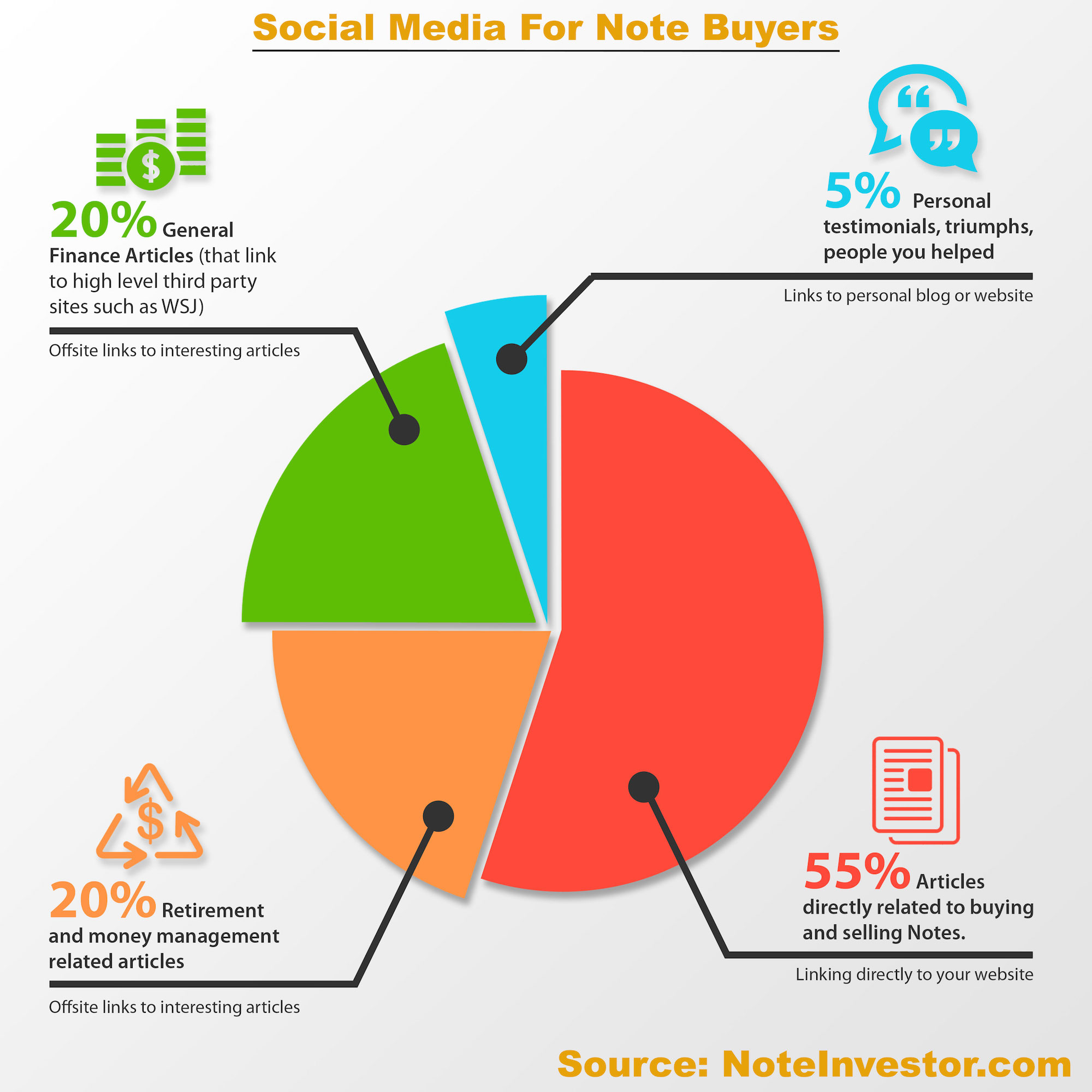 Although there is no hard and fast rule, here is a good starting point on the type of info you should be sharing.
55% Articles directly related to buying and selling notes – Linking directly to your website
20% Retirement and money management related articles – Offsite links to interesting articles
20% General Finance Articles (that link to high-level third party sites such as WSJ) – Offsite links to interesting articles.
5% Personal testimonials, triumphs, people you helped. – Links to personal blog or website.
Now that you know WHAT to share, HOW often should you share?
Again, no exact rule here, but 4-5 times per week is perfect. At a minimum, once or twice a week.
Now, before you panic and think this is not even possible, let me remind you that you do not need to come up with all the content yourself. You get credit just for sharing valuable information.
WHERE should you post?
Start with the big three. Facebook, LinkedIn and Twitter.
These are easy to use, AND you can schedule posts in advance (with help from a third party app) – which is a huge time-saving plus!
That is not to say that Instagram, You Tube, etc. are not great sources – they are just going to take a lot more of your time… and just getting into a habit is more important right now.
It is about consistency.
Now obviously you are not looking to post kitten videos (unless they are really funny) but here is something to remember.
Consistency will almost trump content.
I say that a bit hesitantly because I don't want anyone to take it to an extreme but consistently sharing information makes you much more relevant than an occasional post I am not interested in.
Lastly… a shameless plug…
If you are looking for a great way to get up to speed on social media and email marketing, check out my bestselling book, Be the Lime… the world has enough lemons.
It is available in both Paperback and Kindle edition at Amazon. You can claim your copy here.
I fully expect some follow-up questions to this article, so feel free to email us at info@noteinvestor.com and we will try to help.