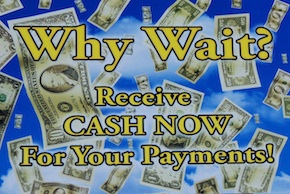 Contacting note holders offering to pay cash for note payments is a winning cash flow business marketing strategy.
But how do you create a list of people interested in selling cash flow notes?
Here are three methods for building your list:
Method #1- DIY County Records
When a property is owner financed the documents are usually recorded in the county records. These records are available to the public and can be viewed in person at the county recording office. Even better, many counties now offer access to records online.
What are you looking for?
The first step is to identify a transaction where the party receiving payments is an individual and NOT a bank or mortgage company.
Next, copy down their name, mailing address, property address, and amount of the real estate note. Depending on the documents recorded, this will be:
Mortgage – Mortgagee is receiving payments on cash flow note
Deed of Trust – Beneficiary is receiving payments on real estate note
Land Contract – Seller or Vendor is receiving payments on a contract for deed
The Do-It-Yourself approach is a tedious and time-consuming way to find cash flow notes. Keep reading for some simpler list building strategies.
Method #2 – List Service
There are list services that do all the grunt work for you. Actually, they use computer software to download the information directly from the county records. For as little as 12 cents a record you can import the data into an excel spreadsheet and be ready to print mailing labels for your postcards or letters.
A word of caution – verify the list service is a direct provider that supplies mailing lists for a variety of real estate professionals. Here's a link to the company we personally use to find cash flow notes.
I've spent endless hours going through dusty courthouse records and hands-down prefer using a list service. The only time I'd consider the DIY method is for one of the few counties that are not offered through a reliable list service.
Method #3 – Email List
Another option is to forget the snail mail and start building an email list. Visitors to your web site can opt-in to receive your free monthly eletter. To encourage participation offer a free downloadable report, with helpful tips on increasing the value of their real estate note.
The months of September through November are some of the busiest for buying and selling cash flow notes. Use these dog days of summer to build your list and start the fall season off with a strong marketing campaign.