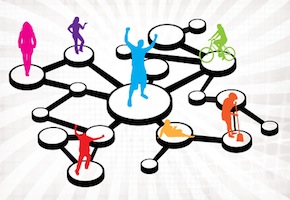 Referral-based marketing is a reliable source of real estate note leads that comes with three distinct benefits:
1. Low cost
2. Little to no competition, and
3. Repeat business
In referral marketing it is all about building relationships. A professional referral source must first be comfortable with you before they will recommend your services to a client.
Why? They know that how you perform will reflect back on them.
In order to be effective it must be done in person. It doesn't work to mail a bunch of letters to attorneys or other professional groups and think you'll get a deal. One-on-one meetings, group presentations, and networking organizations can all provide opportunities for cultivating referrals.
The downside?
It takes a serious commitment of time to meet with referral sources to develop a relationship of trust. It also takes time for them to even run across a transaction that is eligible for referral. But it's worth the investment of time for the ongoing repeat business.
Most real estate note holders only have one note to sell. However, a good referral source can refer a couple of deals per year.
What's In It For The Note Referral Source?
It is important to understand why another professional would refer a transaction. This is called the What's In It For Them or WIFT principal.
Real Estate Agents, Attorneys, Investors, Financial Advisers, Title Companies, and other referral sources have different motivations. Depending on their relationship with the customer it could be one of several reasons:
Desire to close and complete another transaction
Provide assistance under an advisory role
Reciprocal referral or lead exchange
Referral fee or commission split
What About Paying Referral Fees on Real Estate Notes?
Whether a fee is appropriate depends on the referral source. Start by letting people know you pay referral fees. A common referral fee ranges from $100 to $500 per closed transaction.
It can also be paid as a percentage of your fee. This is more common when another note broker or finder brings you a deal, with split arrangements reaching an equal 50/50 in some cases.
There are times a professional referral source is unable to accept compensation for sending a client your way. They may have an existing fiduciary obligation that prohibits a referral fee. Their motivation is to assist their client, provide legal or tax advice, or help solve a problem. It is likely they are already being compensated, such as an attorney under a retainer or hourly fee arrangement or a real estate agent with a listing.
Show Your Appreciation
Whatever the arrangement, be certain to send a thank you note whenever someone refers a potential deal. Even a basket of pastries or box of donuts can go a long way in expressing gratitude.
Give them a call to say you appreciate a lead – even when it does not turn into a closed transaction.
Honor any reciprocity arrangement by referring them a potential client whenever the opportunity arises.
What are the Best Referral Sources?
A referral can come from anyone that knows of someone receiving payments on real estate sold. There are groups like real estate agents and attorneys that are more likely to come in contact with private mortgage notes, but don't forget to think outside the box.
In our Finding Cash Flow Notes Training we share some of our favorite referral sources along with scripts and tips for making the most of the connection. Here is one from the list that might surprise you:
Retirement Facilities & Nursing Homes – Administrators handling the admissions to nursing homes and retirement facilities will run across customers receiving payments on property sold. They may need to sell payments to help cover medical expenses or satisfy requirements for receiving Medicaid assistance.
You never know when a referral prospect will present itself. It can occur in social gatherings or even during a casual conversation in a store check out line. It always pays to be armed with a business card that says, "We pay referral fees!"