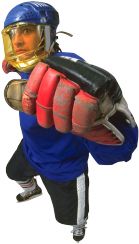 What is Your Livelihood Worth?
It's not a ridiculous question. As you read this, governmental agencies are actively working to eliminate all but the most basic form of owner financing without being a licensed mortgage originator.
Now industry leaders have joined efforts in the creation of an association to protect property owners, home buyers, and professionals in the seller-financed industry.
NAPPPR Mission Statement

The National Association to Protect Private Property Rights (NAPPPR) was created to preserve the rights of Americans to provide seller financing on property they own. The NAPPPR will work diligently to reach the following objectives:

* Obtain legal opinions on pending legislation including:

Homeowners Protection Act (particularly Sections 32 and 35)
Mortgage Reform Act (included in HR 1728 and HR 4173)

* Expand exemption to HUD Safe Act so property owners may provide seller financing without becoming licensed as a mortgage originator. Ideally this exemption should apply to all seller financing regardless of the property type, occupancy status (i.e. rental vs. personal residence), or the way in which the owner holds title (i.e. individual vs. entity).

* Support HR3440 to amend the Internal Revenue Code of 1986 to allow dealers in real estate to use the installment sales method.

* Track new legislation to provide constructive input from the initial proposal rather than reactionary efforts.

* Share information and status updates with members.

* Establish a website at www.napppr.org to bring industry awareness to the legislation and aid in raising funds.

* Gather support and work with the various professional groups impacted by the legislation including

Real Estate Investors
Land Developers
Mobile Home Dealers
Retirement Account Investors
Note Investors
Note Brokers
Private Mortgage Lenders
Servicing Agents
Real Estate Attorneys
Real Estate Agents
Related trade and association groups

* Utilize the efforts of lobbyists to help our voice be heard with lawmakers.

Fighting ill-advised legislation is expensive, and we simply cannot do it without your financial support. Thanks to the predatory practices of subprime lenders, governmental oversight will only intensify on real estate related business going forward.

Please take action now by visiting www.napppr.org and supporting our efforts.