We are headed to San Francisco to participate in the Women in Real Estate Event on March 26, 2011.
This full day event is sponsored by SJREI, the bay area's premier real estate investor's association at the at the Sequoia Yacht Club in Redwood City, California.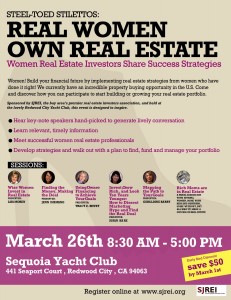 Join women real estate investors as they share their success strategies at the event entitled,  Steel Toed Stilettos: Real Women Own Real Estate.  Here's a look at the line-up and topics:
Wise Women Invest in Real Estate – By: Lisa Moren Bromma
Why I buy and hold real estate versus buying and flipping.
Property Management from afar. Proven tips and techniques to keep your investment properties rented no matter where they are located.
(3) Clauses every lease must have to save your sanity.
How to produce more income from existing tenants.
Exit strategies & how to create dependable income from real estate I no longer want to hold, has been depreciated out, or no longer meets my criteria in this marketplace.
Finding the Money, Making the Deal – By: Jenn Dizmang
When the banks aren't lending, how to continue to do deals with private money
How to FIND private money to fund a deal
How to structure a deal with an IRA: partnering or non-recourse lending
How a real estate portfolio can secure your future
Using Owner Financing to Achieve Your Goals – By: Tracy Z. Rewey
Buy real estate with favorable terms…even when banks say No!
Sell property fast…for full market value
Safely create real estate notes…and sell to investors for top dollar
Buy discounted notes for long term income…without the landlord headaches
Refer notes to investors…and earn referral fees for immediate income
Invest, Grow Rich, and Look Ten Years Younger: How to Dissect Marketing Hype and Find the Real Deal – By: Susan Hare
Secrets of the Craft: Marketing and Social Media
How to inoculate yourself from emotional marketing
Keys to sniffing out hype versus an authentically good deal
Using marketing to your advantage
How to market yourself effectively & appropriately
How to Establish Goals Personally and Professionally as a Real Estate Investor, and How to Execute on Them – By: Geraldine Barry
Many real estate investors, particularly those who work full time, spread themselves too thin – not being effective.  This impacts their ability to grow, and move their business forward.  In this presentation you will learn the following:
How I moved from a part-time investor to full time, and then eliminated the need for my husband & I to have corporate jobs.
The three strategies you as an investor can implement to move your business forward quickly and efficiently.
Strategies for maximizing your time so you can get results.
Rich Moms are in Real Estate

A panel discussion with six women, some with kids and partners, some without, but all who've made a success in real estate
How to make real estate work part time as a family business.
How to reinvent yourself in a dramatically changing environment.
How real estate can facilitate you pursuing your dreams by creating cashflow and financial security.
Looking for an opportunity to meet new people, network, learn top notch real estate strategies for today's market.
For more information or to register for the event visit SJREI online at http://sjrei.org/women/.