Have you ever tried to describe the "typical" buyer purchasing property where the seller provides financing? Many mistakenly think of only those that are "down and out" on their luck.
Let go of preconceived notions and start looking at seller financing as a potential creative financing solution.
A recent encounter with a real estate professional set on stereotyping buyers using seller-financing left me searching for an enlightening response.  It is truly difficult to find a "one size fits all" description.
A simple explanation might be "Owner Financing is an alternative for the buyer or property that falls outside traditional mortgage loan criteria."  While technically accurate, it leaves out the human element.
To paint the full picture it just seems easier to portray a few of the many faces of the owner-financed buyer.  So please, allow me to introduce to you…
The Single Mom that purchased a distressed property with owner financing and only $1,500 down. After living in the home for two years and making sweat equity improvements, she was able to sell the home for a $30,000 profit to put towards a home in a better school district.
The Self Employed Couple that had good credit and 20% down but had just started their new company a year ago and could not provide two years of verifiable income.  They purchased their vacation home on the lake using owner financing and helped the seller assign the Deed of Trust and Note to a note investor for cash at closing.
The Real Estate Investor that bought a 4-plex in need of repairs.  The investor planned to rehab the property for resale profits but the banks wanted the repairs done before extending a loan.  The resolution was short-term private mortgage also known as temporary owner financing.
The Minority Family that only paid cash and didn't believe in using credit.  Without a credit score a loan was impossible.  By showing the seller proof of timely rent and utility payments they were able to buy a home for their family using an installment sale on land contract.
The Retired Couple living on social security income that needed affordable housing but didn't want to just pay rent. Excited to locate a mobile home and lot in a nice 55+ community, they were disappointed to find the circa 1974 mobile home was outside the lender's age restrictions.  The solution?  Well by now you are filling in the blanks; it was owner financing.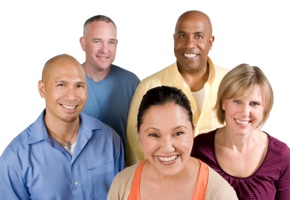 This is just a sampling of the real-life buyers that have purchased property using seller financing.  No, they were not "dead beats" or "unsavory" characters.  They were people just like you and me that desired a home to call their own or an investment vehicle to a better life.  In fact three of those examples were transactions where I personally wore the hat of the property buyer.
These days I'm fortunate enough to purchase seller financed notes for investment purposes.  But whenever evaluating a deal or working with a slow paying customer it helps to understand the human side of the transaction.  The same ability to relate to individuals facilitates working with sellers and note holders too.
When banks say "No" to a conventional home mortgage loan seller financing is a possible alternative. If a buyer doesn't have 20% down, 720 credit score, and 2 years of verifiable income it could be that owner financing is their only option.  For sellers needing to move a property quickly it provides an opportunity to attract a greater number of prospective purchasers.
Author: Written and copyrighted by Tracy Z. Rewey, a well known seller financing expert with over 30 years experience buying and selling real estate notes.