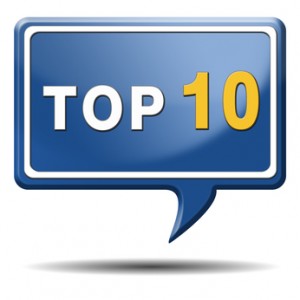 We just returned from a great gathering of note investors at the first annual Note Expo in Dallas Texas.  As promised during the presentation I am sharing the main points from my power point slides along with the tool links.  If you weren't able to attend this year's convention I'm sure you'll still find these tips helpful. Thanks to everyone for attending and being such an appreciative audience.
Note Expo 2014 Marketing Presentation Outline
To survive in the note business as a buyer or a broker we all need to locate deals. Like many industries note deals are attracted to…
Speed
Convenience, and
Price
When you are dealing with seller financed notes the primary marketing methods are:
Direct Mail
Paid Ads
Referral / Networking
Online
So Why Should You Consider Marketing Online?
Your Website Is A Storefront
It Provides Credibility
It Works 24/7
"Cash For Notes" has 18,000 Related Searches Per Month
When starting in the note business back in 1988 we relied heavily on direct mail, paid ads, and referral marketing.  In 1997 we built our first note website which was pretty much a brochure site.  Tired of spending close to $5,000 per month in marketing we decided to figure out the online realm to reduce costs and take advantage of technology.
At first it was a frustrating experience until we discovered the WordPress Content Management System in 2008. Since then we've been able to reach the #1 Organic Position For Term 'Note Investor' out of 170+ million results!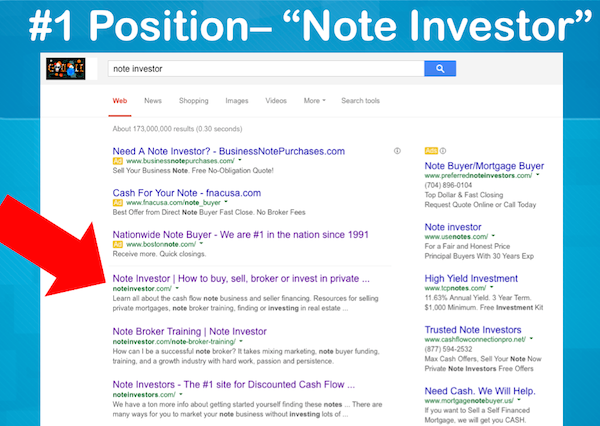 We've also obtained first page results for the term 'Florida Note Buyer' for our company site out of 12+ million results!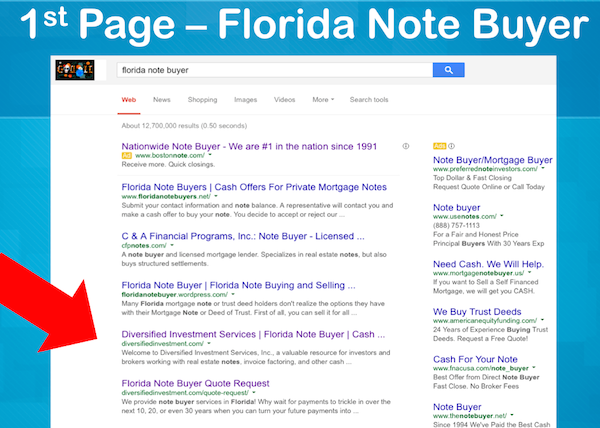 When it comes to online marketing there are 3 Traffic Sources You Can't Afford To Ignore
Pay Per Click (PPC) – The paid ads found at the very top and to the right of search results.
Organic Search – The natural or free results in search engines.
Social Media – Networks ans social profiles based on the sharing of information .
So with that as a foundation let's get started with the…
10 Tools For Marketing Your Note Business Online!
#1 – Determine Your Goal and Keyword Focus
Start by determining the purpose of your website.  Is it going to:
Provide Info
Get Deals
Or BOTH?
Next perform keyword research to establish your focus.  These are words, phrases, or terms used by people searching for your service or product.  Be sure to consider:
Short vs. Long
Local vs. National
Volume & Competition
Free Tool: Google Keyword Planner is Part of Ad Words and can be found at https://adwords.google.com/KeywordPlanner
#2 – Domain, Hosting, and Email
Domains – This is your address on the world-wide web.  For this site it is noteinvestor.com. When it comes to selecting domain names:
Shorter is Better
Prefer .com (over .org .net .info or other extensions)
Have it Contain a Keyword
Be Sure To Own, Control, and Purchase the URL
Hosting – This relies on a bank of computer servers where your web site is actually housed. Your site is made up of files which must be stored somewhere. The hosting cost covers the storage and the ongoing bandwidth needed for people to see your site.  Hosting should include Control Panel Access (CPanel) and FTP access for installation of your site.
Email – Either the domain provider or the hosting company can provide a company email address that matches your domain.  Stop using and email like SkippyLovesCats479@aol.com and get something professional like info@domainname.com.
Free Tool: A helpful free tool for selecting and research domains can be found at http://www.domainsbot.com/
Paid Tools:Domain Registration is less than $15 year through sites like Godaddy.com while Hosting plans generally runs under $100 year.
#3 – Select The Platform
If you plan to expand your site with content marketing select a user and search friendly Content Management System (CMS).
WordPress is our preferred CMS.
There is a .com and a .org version.
You will want the self-hosted .org version
Free Tool: WordPress is open source software at https://wordpress.org/ There are also Free Themes  at https://wordpress.org/themes/
Paid Tools: A variety Premium Themes are available.  For our personal sites and the sites at NoteBuyerSites.com we use themes from Studio Press.
#4 – Content Marketing
Note Websites need basic page content including:
About
Services
FAQ
Contact
Request A Quote (With Options to Call, Fax, or submit Online) Online Forms Gravity Forms
If you want to take your website from a brochure/info site to a traffic attracting website then you need a content marketing plan that includes:
Helpful Articles
Consistent Publication Schedule
Business Blog Posts
Unique Content
Free Tools: Article on content marketing in the note business at https://noteinvestor.com/note-brokers/note-holders-content-marketing
Free articles and eBooks for content marketing tips at http://www.copyblogger.com
#5 – Search Engine Optimization (SEO)
Content should be written for people first.  It should also be optimized for search engines.  Important elements include:
Title/Description (Meta)
Natural Keyword Use
Frequent Posts
350 to 500 Words
Heading Tags
Photos with Alt Tags (Be sure to use licensed photos).
Free Tool: Word Press SEO Plugin by Yoast at https://yoast.com
#6 – Develop A Linking Strategy
When linking to or from your site it is important to use a good linking strategy:
Internal Linking – Within your site for easy navigation
External Links – Outbound to authority sites only
Quality Inbound Links – Online Yellow pages are a good place to start building links to your site.
Avoid link farms and paid links
Free Tools:  Top 25 Free Directory Listings at http://exposureone.com/top-25-free-directory-listings-local-business
Claim Your Google+ Local Page For Business at https://www.google.com/business/
#7 – Develop An Email List
Opt-In Email Marketing allows you to develop a list of subscribers.  It involves:
Free Report or Newsletter
Database Management
A good database management company will make it easy to email a group and keep you in compliance with anti-spam laws.  We personally use Aweber which is a paid service but there are good free tools as well.
Free Tools:  Free Email Database Management plans at http://mailchimp.com/
Helpful article on email marketing at http://exposureone.com/what-email-marketing-service-use/
#8 – Get Social
It's a good idea to setup your social profiles to match your company name or domain name.  From there, the key to using social media is to find your audience.  Determine if you are:
B2B Business to Business
B2C Business to Consumer
For our note business we have found Linked In to be a great asset and current have a Note Investor Group with over 3500 members.
Free Tools:  Note Investor Group at LinkedIn.com
Article with helpful tips on using Linked In at https://noteinvestor.com/buy-notes/how-to-get-linked-in-with-note-investors/
#9 – Test Online Ads
"Google is the 800 pound gorilla controlling 67% of the search market followed by Bing 18% & Yahoo 11%. Feed the gorilla!"
Paid Tools: Pay Per Click with Google Ad Words
Free Tools – Craigslist
#10 – Install Website Analytics
You will want to know important information on your website traffic including:
Visitor Stats (user sessions, bounce rates, number of pages viewed)
Source (organic, referral, social media, etc.)
Device (desktop, mobile, tablet)
Free Tool: Install Google Analytics at  https://www.google.com/analytics
Top 5 Website Mistakes to Avoid
If you have a website or plan to build one be sure to avoid these common small business website mistakes:
1. ET Can't Phone Home – 60% Didn't Include Easily Found Number
2. Desk Bound – 93% Were Not Mobile Friendly
3. Anti-Social  – 80% Failed To Provide Social Links or Interaction
4. Action Please – 74% Lacked An Email Link and 65% Did Not Include Contact Forms
5. Hiding Out – 56% Had Poor or No SEO
We Are Here To Help You Avoid the Mistakes and Implement the Top 10 Tools With Note Buyer Websites!
You can learn all the details at https://noteinvestor.com/note-business-websites/