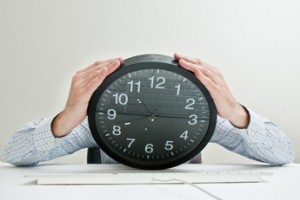 We receive a lot of questions about the note industry.
Some questions are about the potential money that can be made, some are about finding more notes, and some are about what it really takes to run a great note business.
Despite creating hundreds of articles and/or videos, we always get a couple of core questions that people just (seemingly) don't like the answer.
One of the most frequent questions deals with "working the industry part-time."
Can you work the note business part-time?
The answer is "Yes," provided you have a realistic definition of "part" time.
The reason I bring this up is that this week someone called us about working the business only on Saturdays.
One day a week?
This hopeful note broker was not the first to call about working the business on the weekends – matter of fact, there are successful people in the note business that still hold down 9-5 jobs.
But there is a big difference…
Anyone that is successful in the note industry, part-time, is working the business several days a week.
Sure, they may not be putting in a full-time hours, but they are "checking in" when it comes to emails, website inquiries, marketing, and phone calls.
Here is why you cannot work the note business (or probably any business) one day a week.
Let's say I see your note website and fill out an online submission form. In it, I put all my note information looking for you to provide me a quote.
Now, it is Saturday, so you look over the information and get it ready to pass on to the Note Buyer for a quote. But, since it is the weekend, the Funder is not working…so you will get and answer back Monday (or Tuesday).
Let's say Tuesday you get an answer back – but again, you only work on the weekends.
You just took an entire week to get back to the note seller (me) with a quote.
What if I have a question about the quote? Will it take another week for me to get and answer?
Part Time is not defined by days.
Working the note industry can be worked part-time, but that should be measured in overall hours, not specific days.
Sure, you may get away with an "I can never work on Wednesday" once in a while – but you really need to be ready whenever.
So…how many hours should you consider "part time?"
This is a tough question to answer because with tools like turn-key websites and list buying you can cut a lot of corners.
But I would say…
…a part time person should be looking at least 10-15 hours per week.
I am not saying it can't be done in less.
But I am saying that IF you are looking at starting a note business you should be looking at no less than 10-15 hours a week – especially in the beginning stages.
In our Finding Cash Flow Notes training class we teach the note industry from all levels of time commitment and all levels of budget.
Some people have lots of time and no money. Some people have more money, but no time.
In either case, there is a minimum needed. When it comes to "part time," one day a week is just not going to cut it.