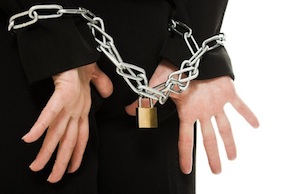 I saw this subject line earlier in the week and it stuck with me.
There really are only two things that can hold us back from success in the note business…
      Fear or Ignorance
I can't help you on fear part. Other than try to keep you motivated to take action. Any action is better than no action.
If you start on a journey in the wrong direction, at least you can change your direction and get back on track.
If you never start, well… you are guaranteed to get nowhere.
It helps to know that people have gone ahead of you and succeeded – paving the way if you will. It has to make it easier.
In the note industry I was able to work with some solid mentors. People that had been there, done that. Certainly I forged new ground in the later years, but in the beginning it helped to have someone tell me where to go.
I have been in the cash flow business for more years now than I care to admit. It changed my life in many ways. From the people I know, to the freedom of living just about anywhere in the world.
I have also dedicated my time, effort, and money to helping others follow that same path…if it is something they desire.
The note business is not for everyone. But it is for many.
I spent the last several years removing the barriers that are in the way for some people.
When people could not find out where to sell mortgages, we created the Note Buyer Directory.
When people didn't know how to invest in real estate notes, we created the Personal Profit Series: Notes.
When people didn't know how to find notes, we created an entire online video training where we gave away our closely guarded tips, techniques, and strategies – right down to our actual marketing pieces. We even made sure to include the Directory and PPS in the Finding Cash Flow Notes Training.
Lastly, when people couldn't find a way to have a professional online presence, we created affordable Note Business Websites.
In a nutshell, we removed the "ignorance" aspect of the equation.
You have all you need to succeed at your disposal, right here, except removing the fear. That comes from you.
One of my favorite quotes is, "What would you attempt to do if you knew you could not fail?"
So, I ask…what would you do and isn't now the time to remove any barriers holding you back…including fear?