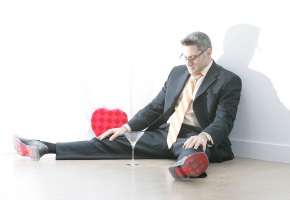 Some things never change…unless you change your behavior.
You know that song right – the country singer looking for love in all the wrong places?
Well in the cash flow business we are often singing the blues about looking for deals in all the wrong places. It is easy to do. There is no shortage of so-called "experts" out there telling you where to find notes.
Don't get me wrong, some people have some great ideas, most don't.
The fact of the matter is that we have a very short list of people we share here at NoteInvestor.com as authors, contributors, and those with information to sell in the form of a book or course.
We like to vet everyone on our site – make sure you are getting great, real-world, ideas and strategies that can help your business.
What if someone could SHOW some really great places to find notes? Really.
It is a simple fact that to make money in the note business we must first find deals. But time and money are at a premium, so what methods really work? Here's how to avoid heartache and start finding deals…in all the right places.
"Every Single Profitable Note Finding in the World (Almost)!" contains a treasure of note finding strategies. I recently reread this gem and was reminded of how much the authors really know the cash flow note business. Written by John Richards (NoteWorthy newsletter founder) and Jeff Armstrong (Armstrong Capital), this 147-page book is filled with real life marketing methods that help you make money with notes.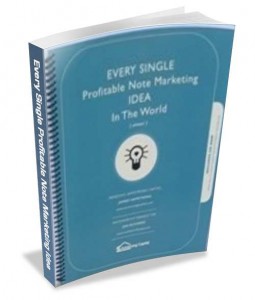 Here is one of my favorites from Chapter 17 using The Note Holder's Handbook. It works like this:
Step 1 – Create a free handbook for sellers that have owner-financed real estate with a mortgage, contract or trust deed. Provide helpful tips on how they can profit from that note and increase its value. Also deal with scary topics, like what to do when buyers don't make payments or forget to pay taxes and insurance. (Note: A ready to use handbook in text format is included with the "Every Single Profitable Note Finding Idea in the World-Almost!")
Step 2 – Offer the handbook on your website, direct mail campaign, print ads, referral marketing, or reverse ad marketing. (Note: A how-to for each marketing method is included in "Every Single Profitable Note Finding Idea in the World-Almost!")
Step 3 – Follow-up with the customer to answer any questions and offer a free evaluation of their note in today's market.
You have created a warm lead and taken the first step in making a connection with the seller by providing something of value. Sure this is a money business but it is first and foremost a people business.
The handbook works great with both old school marketing and today's online world. It can be delivered to the seller in person, by snail mail, or better yet, straight to their email inbox as an offer from your webpage.
Special Bookstore Offer – For just $59.99 you will receive:

"Every Single Profitable Note Finding Idea in the World-Almost!" (The 147-page e-Book written by Jeff Armstrong and John Richards.)
"The Note Holder's Handbook" (A 35 page handbook in text format for your personal private label use.) No need to write your own. Just add your name, make any desired changes, and print or save as a PDF for email.
"Scripts and Tips" (A 55 page e-book with scripts and tips for note brokers.) Never struggle over what to say to a note holder again!
As always, our bookstore products come with a 100% satisfaction guarantee and are available through instant download.