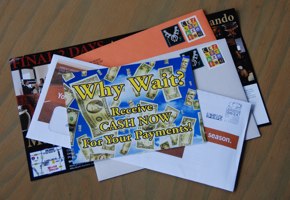 So you have completed some sort of educational training to learn how to buy or broker notes in the cash flow business. You know, a live training, a series of CDs, or a home study course.
If you own the popular Personal Profit Series: Notes then you already have the proven marketing methods and materials you need. If not, you might be left wondering how to find private mortgage notes to broker or purchase for your own account.
Well, finding notes really is the biggest part of the business. There are plenty of funders and industry providers that can assist you in closing a deal, but first you have to find a "buyable deal."
(Note: I say "buyable deal" because there are plenty of notes out there that frankly, just aren't that good. There are some notes investors won't touch, even with a partial purchase. Over time you will learn to identify these notes in less than a minute – not waste time – and move on to better deals where you can make some money.)
Some of the most popular methods of finding owner financed real estate notes are direct mail, print advertising, referrals, and the Internet. In all cases you need to remember to either be exclusive or be unique.
What I mean is chances are you will not be the only ad in the newspaper or the only letter in the mailbox – so something needs to help you stand out.
Are you local?
Are you a member of the Better Business Bureau?
Do you provide a FREE note evaluation?
Do you guarantee your price is the lowest?
Almost any true statement will work if it highlights the unique benefits of your business.
Keep in mind that most methods typically only result in one note, one seller. If you are looking to build a long-term supplier of deals, check out the "Reverse Marketing" method.
In the end, finding notes is a numbers game. Get your name out there as much as possible and always make sure to deliver an effective marketing message. Once all that is in order, the deals will come.
Want to learn EVERYTHING about the note business, including how to find notes and receive proven marketing materials you can immediately use? Check out Personal Profit Series: Notes!