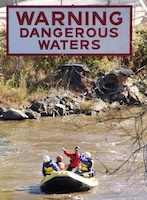 That is the reaction I generally get when I tell people what we do. Or sometimes they will respond with "Oh, that's got to be tough right now."
Perhaps it is my answer, but mostly it is because many people's perception has been clouded with everything they hear and read on the news about mortgages and foreclosures over the past few years. So when I say "We buy mortgages" (just to keep it simple) I am no longer surprised with their usually negative or sympathetic reactions.
However, with proper due diligence and by taking the necessary time to get to know the whole story around the note and deed of trust you are buying, you can still dramatically reduce your risks in real estate note investing.
While we have been fortunate in the small number of notes that have given us problems during the downturn, I did want to share one story that happened earlier this year that made me question… Is what we do risky?
I think you will find it interesting how it all ended…
It started with a call in February from the company we were using to handle the Trustee Sale (foreclosure), which went like this… "We had to stop the foreclosure. Your payor has filed bankruptcy." Since this was my first encounter with a payor filing bankruptcy, I immediately began searching for what to do.
When someone files bankruptcy, an "automatic stay" immediately stops any attempt by creditors to collect on a debt. I called our attorney and he informed us that we would need to file a "lift of stay" which, for $1,000 and, if granted, would give us the authority to continue with the foreclosure.
I had always known that bankruptcy was one action a payor could take to complicate and delay the foreclosure proceedings. I wanted to continue with the foreclosure but didn't want to move ahead with the lift of stay (and the $1,000 payment) until I knew all of our options.
After calling a number of contacts, one of my note investor mentors gave me the best advice on the issue. He said, "Just wait and I think you will be surprised with the results." When I asked him why, he said, "Many times payors are able to shed their other non-collateralized debts and this affords them the cash to pay your note." I was pleased to hear that this was a possibility, but I wasn't content to wait.
I called the Federal Bankruptcy court in Arizona where the property is located and gave them the bankruptcy case file number. They in turn gave me a copy of the bankruptcy case plan and in it were listed the payor's bankruptcy attorney's office contact numbers.
The bankruptcy court also informed me that we needed to file a "Proof of Claim" with the court to insure that our debt was listed in the bankruptcy.
After review of the bankruptcy plan I found good news… Our deed of trust was already listed in the plan to pay creditors. Even better news… after calling the trustee handling the case, she asked for our correct address as she had sent us a payment that had come back with the wrong address. The trustee immediately re-sent the payment to us after we sent them our correct address.
We have now received 7 payments on time… even better than they paid before the bankruptcy.
With this experience I now know that bankruptcy is a hassle, but it can also be good for your note performance. Having gone through it once we will be better prepared if we come across it again.
With almost everyone in the world thinking that real estate note investing is risky, we are seeing less competition. Despite today's perceptions regarding mortgages, I still think real estate notes are a safe place to invest your money with the proper due diligence.

About the Author: Greg Gehlen is the Principal at Canyon Capital, which specializes in the purchase of real estate notes and deeds of trust. He can be contacted at 702.515.7416 or online at www.canyoncap.com