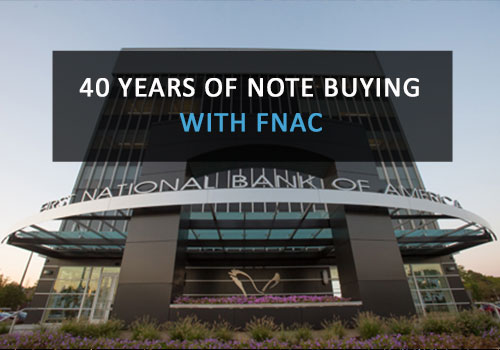 First National Acceptance, or just FNAC for short, is one of the leading companies buying mortgage notes created through seller financing.  Backed by 40+ years of note buying experience and a low cost of funds, they have a wholesale division dedicated to working with note brokers.
We sat down with Dan Malcolm, Broker Desk Manager, in this video interview to congratulate FNAC on their Best of Notes Award. We also discussed how brokers can earn commissions referring notes, their current buying parameters, and how COVID is impacting note investing.
---
---
What Types of Notes Does FNAC Buy?
1st and 2nd Liens Nationwide
Performing Notes Only
No NPLs but re-performing notes are considered with 12 months of verifiable payments.
Mortgage, Deeds of Trust, and Insurable Contract For Deeds
Most Property Types including residential, commercial, land, mobile home and land.
Minimums:

Unpaid Balance of $30,000
1 month of Seasoning
550+ Credit
How Companies That Buy Mortgage Notes Determine Pricing
Private notes are generally bought at a discount with pricing a reflection of perceived risk and desired return. Like most note buying companies, the offer is determined based on:
Property Type
Equity
Credit
Seasoning
Terms of Repayment
There are some notes that demand premium pricing. If you are creating notes with seller financing its worth paying attention to the criteria for optim pricing.
Currently, FNAC is paying up to 97% of the Unpaid Principal Balance (UPB) for these premium notes:
1st Lien Only
Single Family Residential
Balance of $85k or more
Credit of 680 or higher
Equity of 20% or more
If the property is a rental it must meet all the base requirements for balance, credit, and equity. If it is owner occupied it can take advantage of one flexible parameter in these areas:
Balance of $50K to $84,999
Credit between 650-679
Equity of 15-19%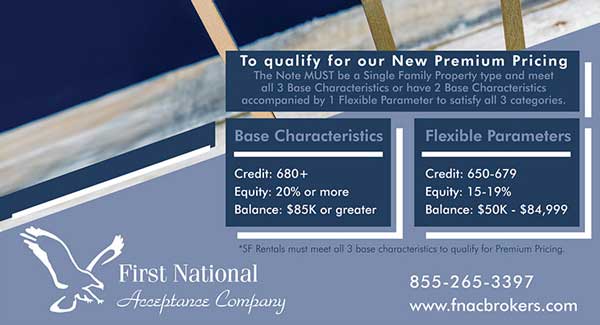 In addition to the great pricing, FNAC reports that 97% of the Premium Notes submitted went through to a successful closing and the commissions were on average 66% more than those earned on Standard Notes.
Strong Note Broker Closings in Final Quarter of 2020
We are all watching how coronavirus will impact note investing. After a slow down in the spring of 2020, FNAC finished out the year with one of their busiest third quarters, closing over 26.4 million:
82 notes in December for an investment over $9.3 Million
80 notes in November for an investment over $8.3 Million
70 notes in October for an investment over $8.8 Million
Don't Miss These Key Takeaways From The Video Interview:
20% of Deals Are Partials
70% Have Payor Interviews
18% Were Premium Notes in 2020 (up from 13% in 2019)
Average Commission About 8%
No credit viewed as 600 or 620 depending on equity & size of deal
Less than 10% equity had highest default and deferral requests.
For more details, including quotes and forms, you can visit https://fnacbrokers.com/, call call 855-265-3397 (ext.7356), or email Dan Malcolm at daniel.malcolm@fnba.com.
FNAC is one of the important investor resources listed in the newly released 2021 Note Buyers Directory now available in the bookstore.