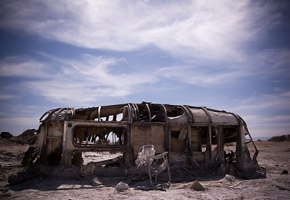 If you think the credit crunch has made it hard to obtain a home loan just multiply by 10 or more when searching for a mobile home loan.
Mobile homes can provide affordable housing options but are continually turned down for bank loans leaving sellers and buyers searching for alternative financing solutions.
Why All the Fuss?
The first step to finding a solution is a quick overview of how the mobile home financing challenge was born.  Mobile homes, now known as manufactured homes, are built on a non-removable steel frame designed for transport.
Most mobile homes are titled, similar to a car, and are considered personal property.  If a manufactured home is placed on land, following guidelines for attachment to a permanent foundation, it can be reclassified as real property in certain states.
Each transportable unit (single, double, triple, etc) has a red certification label to show it was built according to the health and safety standards established by the US Department of Housing and Urban Development (HUD).
HUD started regulating the construction of mobile homes under established guidelines in June of 1976.  Another major overhaul to the guidelines occurred in 1994 providing for greater protection from wind and hurricane damage.
These events all contribute to three financing challenges:
Depreciation – Manufactured homes tend to depreciate or go down in value as they age.  This is partly due to any personal property classification as well as construction quality. This makes lenders afraid that something worth one value today might be worth less tomorrow, especially when the sale is for a mobile home only without land involved.
Construction Quality – While great improvements have been made in recent years, manufactured homes generally do not last as long as stick built homes. They are prone to suffering from roof leaks, uneven settling, and overall shorter life span.
Age Restrictions – Mobile homes that are built according to the HUD guidelines established in 1976 are eligible for mortgage loans insured by the Federal Housing Administration (FHA).  This means conventional type lenders don't like to lend on manufactured homes built before June 1976.  There are some lenders that set even stricter age requirements, including built since 1988, 1994, or even newer.
Fortunately sellers and buyers can turn to owner financing and private investors when banks say no to mobile home loans. Learn more about these options in the article entitled: Owner Financing – How to Finance Older Manufactured Homes.