If you plan to buy mortgages or want to take your note broker business to the next level then learning your way around a financial calculator is a big plus.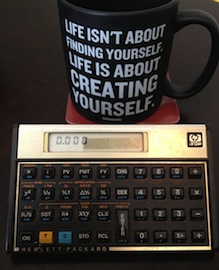 As many of you know, Fred and I are a house divided when it comes to…
Fred likes the Texas Instrument Financial Analyst and I am a die-hard HP12C user.  Recently a fellow HP calculator fan read that past article and wrote in with some great information.
In the process I found out my calculator might be dating me a bit.
Hello Tracy,

I know you are a big fan of the HP 12c financial calculator.

I have used the HP 12c for years, but I also use the 17bII+ financial calculator. It has the HP Solve function, which is an equation solver that allows you to store equations and creates menus for them.

I have some information that you might be interested in.

Quite a few long-time users have asked me about changes on the HP 12c. Some of them have replaced their older models with the new HP 12c.

Some were a little disappointed and some were not.

The New HP 12C Calculator

Hewlett-Packard has upgraded their outdated processor.

This is not well-known by people, until they actually use the new model, because HP did not advertise or inform anyone about the big change.

I guess HP was worried about upsetting some of their loyal and long-time users.

On the new model 12c, you can now perform calculations and get your answers in 2 seconds. That's right; you no longer have to wait 1-2 minutes for the machine to crank out your answers.

Many people have asked me why HP made the change to a faster processor. The manufacture in China actually made the change.

The manufacturer told HP it was no longer cost effective to produce the old processor. Also, the foundry that had produced the old processor told them they could no longer manufacturer the necessary chips, having moved on to making higher-density chips.

The one question that I'm often asked is: "How do I know if I'm buying the early, later, or newer model 12c?"

A great question, please keep reading and discover the answer.

Buying the New HP 12C

There are retail and online stores that still carry the later models (not the early model), and if you really want one, then you should be able to find one.

However, the early or original model 12c is very hard to find, except for the used ones that you find on e-bay. Many of the stores are depleting their inventories of the later model 12c, which had the slow processor.

The HP website is showing the later 12c, but they still may be selling the new HP 12c also. Therefore, you need to be careful when you buy, and make sure you are getting what you paid for.

If you want the newer and faster 12c, then you must be extremely careful when you buy one. It's possible HP and other retailers and online stores may ship you the later 12c instead of the new and faster HP 12c.

The companies are trying to move their excess inventory, and they are also banking on the fact that many consumers don't know the difference.

However, the readers of this article will now be armed with knowledge, and as they say, "Knowledge is Power".

However, "Caveat Emptor" still applies. (Buyer Beware)

How Can You Tell the New HP 12C From the Early or Later 12C?

Here's how to tell the difference:

Early Model 12c – .75 inch (2 cm) wide battery door (3 batteries)
Later Model 12c – 1 inch (2.6 cm) wide battery door (1 battery)
New Model 12c – 2.25 inch double wide battery door (2 batteries)

When you buy the HP 12c calculator it will be wrapped in a hard plastic covering. So, make sure you can see the entire plastic covering before you buy it.

Look at the top of the calculator that's inside the plastic covering.

If the battery door is SMALL, then you have the early HP-12c

If the battery door is MIDDLE WIDE, then you have the later HP-12c

If the battery door is DOUBLE WIDE, then you have the new HP-12c

I personally like the new and faster HP 12c, but the unit is not as well-made as the early model 12c, which had double injection molding on the keys.

According to engineers, the speed is about 20 times faster than the early model 12c or later model 12c. However, the new HP 12c lacks the deep rich gold that was on the early model 12c.

Below, you will find a link to an official authorized reseller of HP products. Click the link, then click product index, and you'll see the HP 12c battery doors at the top of the page.

This company specializes in HP calculators and accessories.

The company sells 3 different types of replacement battery doors for the HP 12c calculators. You can check out your own 12c battery door, or if you need one, buy one of the replacement battery doors.

The New HP 10BII+ Calculator

Early Model 10b (1987)
Later Model 10bll (2003)
Later Model 10bll (2006)
New Model 10bll+ (2011)

The 10bll you have posted on noteinvestor.com is an outdated model.

The 10bll on your website was cheap and made of plastic, and this model created a huge backlash across the country from professors, high school and college students, and other teaching professionals.

Therefore, HP decided to discontinue the 10bll (plastic) after only 3-4 years on the market. Then they released a totally redesigned and better built 10bll financial calculator.

This time, HP got it right. However, the plastic model 10bll was made to cut costs. HP tried to cut costs, reduce the quality, and make cheap calculators, but the public revolted.

In 2005, The Hewlett-Packard Board of Directors elected a new CEO for the company. After the management change, HP went back to building better financial calculators. In 2011, HP came out with the new 10bll+ calculator, which is being sold in most office supply and retail stores today. Although, Amazon, and a few other online retailers still have the redesigned 10bll model that was made in 2006.

Robert Shiblom
After reading this email I had to take off my back cover to see how many batteries I had – one or two.  (It's been awhile since I changed them.) Well to my surprise I had three!  So after a search of the HP12C options on Amazon and a few friendly email exchanges with Robert I found out I have the really old version.  I'm pretty sure I acquired this calculator about 1988, which must be getting close to antique status.
There's an App For That
Now before you think I am totally in the dark ages I'd like to add that I also use the HP12C App on my iPhone and iPad.  This is really handy when you are traveling as its one less thing to bring.  My only beef is that the buttons on the App are easy to get wrong.
When I need to physically print amortization schedules or run a varied cash flow I can also turn to the Tvalue software.
But at the end of the day, I prefer the tactile feel of those raised buttons. It is a familiar friend that I could use blindfolded. (Well at least the top row of keys on the left.) So when I'm in the office that HP12C is getting daily use.  Yes, for over 20 years.
I know my vintage version of the HP12C takes a little longer to process.  But while that little "running" notice is on the screen it gives me time to think about the deal outside the pure numbers.  As a good friend and business note investor taught me 0% of 20% is still zero and don't get taken in by the pure yield calculation. You have to collect on that debt to earn your return!
So thanks to Mr. Shiblom for sharing this information (and I forgive him for inadvertently making me feel old).  I got to know my trusty HP12C a little bit better, realized I missed sending a card in celebration of its 30th anniversary in 2011,  and discovered there was a calculator club dedicated in its honor.
Now I want to hear from you!  What financial calculator do you turn to?  Please leave a comment below!
If you enjoyed this article you may also like Buying Mortgage Notes: 7 Tips For Calculating Cash Flow Notes.
P.S. After sharing this article on Google+ I was invited to join a group for geeks.  Maybe I should change the article title to "Does this financial calculator article make me look like a geek?"