Ready to mingle with Note Buyers? Join us October 25-28, 2012 for the 26th Annual Noteworthy Convention in Las Vegas, Nevada!

Get direct with institutional investors, meet private mortgage buyers, and learn note broker marketing strategies from leaders in the note business.
NoteWorthy plans to surpass last year's 300+ attendees, so the networking will be incredible with over 30+ speakers (including yours truly) working hard to deliver up-to-date strategies.
This year's event has a three-part focus:
Investing in Defaulted Notes
Seller Finance & Real Estate
Marketing & Business Building
The note business convention will take place at the newly remodeled Tropicana Resort in Vegas with Super Early Bird registration now open. But before you grab your ticket, be sure to find out….
How You "Meet The Band" at the 2012 Noteworthy Convention!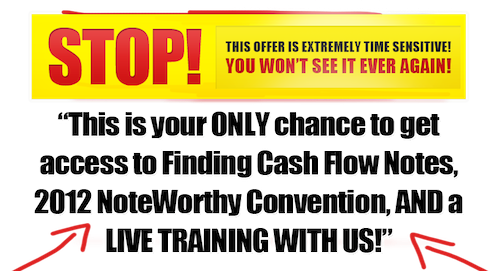 Ok, you are going to want to pay attention to this!
Why?
Because we can't tell you how many YEARS have gone by to get something even remotely close to this opportunity.
Here is the deal…
We have teamed up with NoteWorthy to offer you something out of this world when it comes to Note Training and elevating your business.
Here is what you get…
1. FULL IMMEDIATE ACCESS to Finding Cash Flow Notes Training online ($495 Value).
This has been a hot seller for anyone that wishes to advance their note business or is just getting started. We share all our secrets in this online video training. Watch over 40 videos and download the exact marketing materials we use! Matter of fact, just change the company name and they are YOURS to use! This includes ready to use content for cutting edge online marketing for notes.
2. FULL ACCESS TO 2012 NOTEWORTHY Convention ($198 Early Bird Value/$398 Current Price/$898 at the Door) – October 25-28 in Las Vegas, NV.
Mark you calendar for what will be a "meeting of the minds" when it comes to who's who in the note industry. Learn new strategies, get tips, and meet some funders. This is YOUR convention when it comes to the note industry.
3. MEET THE BAND (Priceless)
OK, Not a "Band" but Fred Rewey and Tracy Z – LIVE. That is right, we are doing a rare LIVE pre-convention training (no selling) on Thursday morning October 25th – just before Noteworthy kicks off.
It is has been some time since we have been seen "live." Frankly we are expensive and we love to travel – so getting us to stand still is a rarity. The ONLY people getting into this session are those that get invited. Here is your chance!
For a VERY limited time, you can get all three!
Immediate Access to Finding Cash Flow Notes (FCFN)Training
Ticket to NoteWorthy
Ticket to see Fred and Tracy LIVE at the VIP Pre-Con
All for $345.00 IF you act NOW. (Limited number of seats available.)
Here is what we want you to do…NOW…
You must use the above link to grab your spot and claim one of the hottest "note" deals in a long time.
Already have Finding Cash Flow Notes Training but want to attend the Noteworthy Convention?
Hey, you didn't think we would leave you behind did you?
Use this link and grab entrance to convention AND the VIP Pre-con.

We are excited about this one (can you tell?) and look forward to meeting you in Las Vegas this October.
To your success,
Fred Rewey and Tracy Z
Quick Recap of the 26th NoteWorthy Convention Oct 25-28, 2012
Tropicana Resort 3801 Las Vegas Blvd. South, Las Vegas, NV 89109

Here is link for the whole VIP package! CLICK FOR FCFN TRAINING, CONVENTION & PRE-CON $345

Here is your link if you want to attend the NoteWorthy convention and the live pre-con with us! CLICK FOR CONVENTION & PRE-CON

(As of 9/27/12 the Current Price for just the NoteWorthy Convention is $398 so buying with the VIP training package actually saves $50! You don't need a financial calculator to know that is a great deal!)

"You can make money brokering notes but you get wealthy buying notes!"  John Richards – Note Investor and Founder of NoteWorthy Newsletter