It's difficult to find note buyers for junior liens but that is especially true for non-performing second position mortgage notes. We were recently informed of an investor hungry for this type of real estate paper and wanted to share a new addition and update to the real estate note buyer directory.
What type of real estate notes will your investors consider buying?
The junior lien note buyers I am working with are looking for the following:
2nd position notes nationwide
1st are current to 60 days late
Any equity above the 1st is always nice but not mandatory
1st position Unpaid Principal Balance (UPB) from 1k-250k (CA notes can be higher)
2nd position UPB above 10k-150k (again CA could be higher)
Are you looking for only non-performing seconds behind performing firsts or also performing seconds?
Yes – non performing seconds
Any minimum credit score?
No
All property types or just residential?
Mostly residential.
Any ratios for 1st compared to 2nd (for example "the first balance can't be more than 2 times the second" or something similar?)
No set formula for that.
Does it need to be a portfolio of a certain size or will you consider individual deals?
Mostly portfolios but will look at individual real estate notes.
Is pricing generally 10-25%, 50%, or something different? While it depends on the deal we want people to be prepared for the discount before they contact you.
Defaulted or non performing seconds usually trade for a very small amount – typically under 10%.
Where can people contact you for more information on buying non performing junior liens?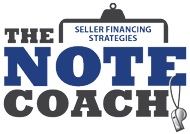 Jeff Bennett
The Note Coach
Office: 201-580-4228
Fax: 973-774-7064
www.thenotecoach.com
Looking for more debt investors? Be sure to grab your copy of the 2012 Note Buyer Directory or login to the Member's Area of FindingCashFlowNotesTraining.com!