If you are buying mortgage notes from banks or private sellers then you know sometimes those small pesky details can turn into big trouble.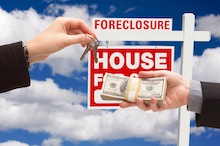 Recently a reader shared one of his note buyer stories of a "good deal gone bad." He was kind enough to let me share his story in hopes of saving others from a similar situation.
After you read his story please head over to What Private Note Buyers Can Learn from MERS for tips on safeguarding against this challenging situation.
Buying Mortgage Notes From Banks
"Sometimes it's the little things…
I bought a note from a broker in March of 2010 for 10K. He paid 4K for the note. I thought I had all of the paperwork necessary to complete a foreclosure. I hired an attorney and I explained to him that this was my first note purchase and I would appreciate any input that he could give me. He assured me that he would.
The attorney liked my paperwork and indicated that this would be an easy transaction. Some of the comments that he made sounded a little envious of my note transaction. This made me confident that the deal was good.
I had a title search done on the property prior to purchasing. The deal looked very clean and easy. The owner was gone and there would be no resistance from him. In fact the attorney enlisted a tracking agency to find the owner and they couldn't find him.
So, I paid the nuisance fines on the property and the back taxes so I wouldn't lose it to a tax deed auction. I also paid to insure it for the first year. All in all over the next two years I would have a total of approximately 20K invested. I had entered an ad on Craigslist advertising the property for 42.5K and had gotten 7 responses in hours.
The note was purchased from Wells Fargo. Wells Fargo had stopped their foreclosure. I guessed that they couldn't find him so they gave up and wrote it off to be sold cheap. My attorney started another foreclosure.
It seems the original docket concerning the Wells Fargo foreclosure was not reviewed by my attorney. I was not aware of what to do with an old docket and didn't really pay much attention to it. I thought that the case would be taken care of by the new foreclosure proceedings. I was confident that all legal matters would be attended to by my attorney.
After being delayed for nine months I got a call from the attorney's son. He asked me where the original mortgage was. I said that I didn't know, I thought they had it. The Wells Fargo attorney was from Tampa and both the attorney and myself contacted him several times to find out if he had any idea where the mortgage was. We made no headway there at all. I also contacted the broker that sold me the note and asked him to contact his person at Wells Fargo. He had no luck either. His contact didn't work there anymore. After numerous calls and e-mails the broker told me that I "was on my own. So, needless to say I don't have a great relationship with him anymore.
Around May of 2011 my attorney's wife called to tell me that the original documents were shipped to the attorney in Tampa on March 29, 2011. Well, I thought my problems were solved. Not so. It seems that since the original attorney didn't have the case anymore they shipped the papers back to Wells Fargo. So my attorney at the time sent me a copy of the original docket that Wells Fargo had done. On that docket was a court order on December 16th, 2009 to send the original mortgage and paperwork to the Tampa attorney. On December 17th, 2009 another court order was given to send a postage paid envelope to have the papers shipped. This information was never divulged to me. My whole case could have been solved for a few dollars in postage! Needless to say I was not happy.
I contacted my attorney's office and asked if I was reading this right and could this have been solved by a postage paid envelope. The answer from them was YES!
Both myself and the attorney's office contacted Wells Fargo to see where the paperwork was. They have never found it. I also contacted the broker again and he said he couldn't help me. My attorney claims that the procurement of the mortgage was my duty. I say he was my legal department and should have made me aware.
I went to see the property over the last weekend in April 2012. It is a shambles. It will not sell for nearly 20K. The neighborhood has gone down also. Two other properties there are selling for 22K and 27K respectfully. Those properties are better than mine now. Two years of vacancy have devastated this property.
I had hired another attorney after I fired my first one. That attorney did the best she could but the property is too far gone. I can't put anymore cash in this deal. I am letting it go for taxes. But that will be a long time since I paid the back taxes through 2010.
I still think that although my first venture was a failure notes are where it is at. I will pay more attention to the little things in the future. But, just to let you know, not all note stories have glorious endings.
Thanks for reading my dilemma,
Anonymous…"
Editor's Note: The above story is reprinted word for word from a letter received from a note investor.  This was shared with permission but the name withheld by request.  We personally have learned some lessons from the school of hard knocks and make every effort to share these honestly here at NoteInvestor.com and in our FindingCashFlowNotesTraining.com.