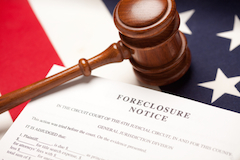 We're not even half way through the year and sales of non-performing note portfolios are already robust for 2015.
Part of the credit goes to requirements issued by The Federal Housing Finance Agency (FHFA) to reduce the number of delinquent loans in the portfolios of Freddie Mac and Fannie Mae prompting several sales by these GSEs (Government Sponsored Enterprises).
Largest Sale of Delinquent Loans by Freddie Mac
In March Freddie Mac executed its largest sale of delinquent loans to date on 5,389 seriously delinquent loans with an aggregate unpaid principal balance (UPB) of $985 million.
The sale was done via auction in three separate pools:
Pool #1: 3,577 loans with an aggregate UPB of $629.6 million
Pool #2: 1,331 loans with an aggregate UPB of $235.9 million
Pool #3: 490 loans with an aggregate UPB of $120.0 million
The averages on the three pools were:
The cover bid prices (second highest bids) were in the low 80's percent of UPB for Pool #1, in the low 70's percent of UPB for Pool #2 and in the mid 70's percent of UPB for Pool #3.
Source: Freddie Mac News Release March 27, 2015
This followed an earlier sale by Freddie Mac of $392 million NPLs in February of this year and $596 million in August of 2014.
First NPL Offering by Fannie Mae
Fannie Mae jumped on the bandwagon by marketing its first ever offering of NPLs in April. The winning bids on approximately 3,000 loans totaling $762 million in UPB were announced on May 15, 2015 with closing anticipated in June.
The loans were offered in two separate pools:
Pool #1:  710 loans with an aggregate UPB of $173.8 million.
Pool #2:  2,358 loans with an aggregate UPB of $587.9 million.
The averages on the two pools were:
Loan Size $248,285
Rate 5.93%
Delinquency: Approximately five years
Current LTV (to BPO): 123%.
The cover bid prices (second highest bids) for Pool #1 is 71.9% of Broker Price Option (BPO) (58.8% UPB) and for Pool #2 is 71.0% of BPO (57.8% UPB).
Source: Fannie Mae News Release Dated May 15, 2015
Smaller Investors Targeted By Freddie Mac For Non Performing Loan Sales
The first Extended Timeline Pool Offering (EXPO) was rolled out in April in Miami-Dade County with bids due on June 2, 2015. EXPOs will be smaller pools with longer marketing times specifically designed to provide smaller investors time to secure funds to participate in the auctions.
All of these developments are in addition to the billions in ongoing sales of non-performing assets by traditional banks, hedge funds, and other entities.
Where Does The Private Note Investor or Broker Fit In?
Buying multi-million dollar portfolios of non-performing notes takes very deep pockets. They are often purchased by private equity hedge funds willing to buy the whole offering. They then carve out the notes they do not want and sell off in smaller pools or individual notes to private investors.
If you are reading all this and wondering, "Where do I fit in?" Here are some helpful tips:
1. Understand the differences between an originated mortgage loan and a seller-financed note by reading this article:
Can You Please Define Private Mortgages?
2. Decide if you are a performing buyer looking for cash flow or a non-performing buyer ready for negotiating a work-out or taking the property back as explained in this article:
What about buying or brokering non-performing and defaulted notes?
3. Learn the ropes from investors actively in the non-performing market. Our Finding Cash Flow Notes Training is on seller financed performing notes. Why? Because that is our primary focus and we like to teach what we do (crazy right?) If you want to learn the non-performing side of the note business a great start is to watch this video from Troy Fullwood, the NPN Pro:
How To Get Your Slice of a 580 Billion Dollar Opportunity!