"Are You Ready to Make Money in the Note Industry?"
Are you searching for both immediate income and long-term cash flow as a note finder?
Wondering how to buy properties without bank loans during the credit crisis?
Receiving payments on a note but prefer cash now? Or, would you like to sell a property with owner financing but worried about protecting yourself?
Tired of dismal returns in the stock market?

Then you need the Complete Money Making System to Buying, Referring, Creating and Holding Real Estate Notes!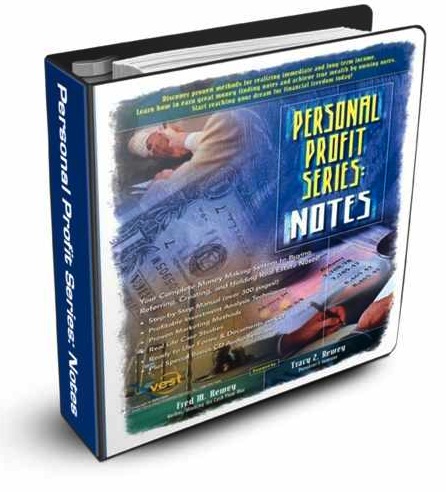 Personal Profit Series: Notes is the most comprehensive note program in the industry.
Developed by well-known experts, Fred Rewey and Tracy Z. Rewey, it is backed by their 30+ years of combined experience buying and brokering notes.

Why reinvent the wheel? Discover proven strategies and marketing methods that work time and time again. Profit from Fred and Tracy's insider knowledge and avoid costly mistakes that waste your valuable time and money!
Uncover the tools that, formerly, only years of experience could develop! The Temporary Seller Financing, Buy Full-Sell Short, Split Payment Partial, and the Buy Wholesale-Sell Retail on Easy Terms strategies are just a few of the powerful secret weapons used by the pros. Master these techniques to invest in notes with little to no money of your own AND earn a fee at closing!

Profit from Proven Strategies

¨ Earn Thousands of Dollars in Referral Fees
¨ Creating Marketable Notes
¨ Investing in Notes for Double and Triple Digit Yields
¨ Brokering Notes to Investors for Top Dollar
¨ Selling or Buying Property with Owner Financing
¨ Marketing for Note Holders
¨ Successful Negotiations
¨ Accessing Tax Advantaged Retirement Funds
¨ Mastering Partial Purchases
¨ Simultaneous Closings
¨ Closing Procedures, Forms and Documents
¨ Investment Analysis and Due Diligence
The Complete System

Everything you need to become a specialist in the field of owner financing and discounted notes is provided including a detailed step-by-step manual, marketing examples, forms, worksheets, checklists, calculations, evaluation techniques, contracts, documents and real life case studies! The system includes:
Step-by-Step Manual (over 475 pages in PDF format)

Real Life Case Studies

Proven Marketing Methods

Ready to Use Forms and Documents

All delivered immediately to your email inbox!
Order Your Copy Now!
This Series is for YOU!

Whether you are new to the note business or a seasoned investor looking to diversify your income, this series is for you. Discover how to make great money brokering notes and achieve true wealth by owning notes..
Product Review –
Kevin O'Connor
"I keep a copy on my desk and refer to it often."
"As a note broker, for the past 18 years I have purchased many publications on the subject of seller-financing and note brokering. Without hesitation, I highly recommend Tracy & Fred Rewey's "Personal Profit Series: Notes" (PPS) to any one in the note business, from beginners to seasoned veterans.
I keep a copy on my desk and refer to it often. For my money, PPS is the most comprehensive, thorough, detailed, and well-written book on the subject of privately-held notes, I have come across."


Kevin O'Connor
Charlottesville, VA
"Our 60 Day Guarantee"
We are never satisfied unless you are more than satisfied. So here's our simple "No Small Print" guarantee. Order Personal Profit Series: Notes today and put it through the ringer. Use every strategy and technique as many times as you'd like for 2 full months.
You be the judge. If Personal Profit Series: Notes doesn't deliver everything we've promised, or if you're unhappy with it for any reason, just return it and we will immediately buy it back.
We have no problem making this iron-clad guarantee because in we know you will not find a better, more informative, manual on the buying, selling, and brokering of privately held mortgage notes. Fair enough?
"Five Good Reasons To Buy"
| | |
| --- | --- |
| 1. | Reason Number One: Learn how to make extra money by referring notes to Funders. |
| 2. | Reason Number Two: Learn how to get double or even triple returns on your investment money! |
| 3. | Reason Number Three: Learn how to sell your house faster and for more money. |
| 4. | Reason Number Four: Learn how to create solid present and future income. |
| 5. | Reason Number Five: You have nothing to lose, you have our 60 day guarantee! |
Order Your Copy Now!