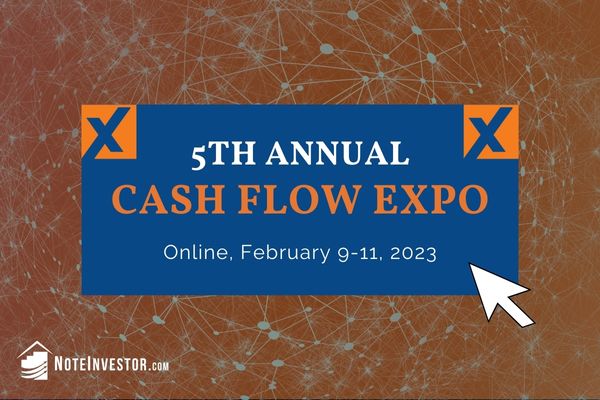 Join Us Online for the 5th Annual Cash Flow Expo on February 9 – 11, 2023.
Each year the top tier speakers, mentors, educators, and career entrepreneurs meet in one place, online, for a full three-day event that is focused solely on helping others succeed.
After the tremendous success in 2019, 2020, 2021, and 2022 there was no doubt in everyone's mind that Cash Flow Expo would be back in 2023 – and this year is bigger than ever! It's the 5th Annual after all!
Let's face it, for many people, the past two years may not have been the best years for personal and financial growth. With an on-going pandemic, a faltering economy, inflation, and general mayhem, it's been an interesting time in history. But, we are here to help turn that around!
What to Expect at the Cash Flow Expo Online Summit
This year we have assembled some of the best and the brightest. They will inspire and educate as you put together your cash flow plan for you, your family, and your future.
Cash Flow Expo focuses on Real Estate, Private Mortgage Notes, Note Investing, Private Lending, Mobile Home Notes, Seller Financing, Self-Directed IRAs, Stocks and Options, Alternative Real Estate Investments, and much more….and is FREE to attend.
Save the Date for the 2023 Cash Flow Expo
The 5th Annual Cash Flow Expo will be held online, February 9 – February 11, and again, there is NO COST to attend – but you must register to claim your spot.
No selling, just pure educational presentations…
Speaker Sessions and Lineup for Cash Flow Expo 2023 –
The Expo is filled with the latest actionable information to help you achieve your goals and dreams. Every speaker knows this is not to be some 'pitch-fest.' We want real action items that attendees can put to use…right away!
Day 1 – Thursday, February 9 (all times are EST)
Sponsored by First National Acceptance
9:45am – Fred Rewey and Tracy Z
Welcome to Day One
10:00am – Tom Muth and Rachel Sims
How We Overcame the Challenges of 2022
11:00am – Wendy Sweet and Bill Fairman
How to Invest in Real Estate During a Recession
12:00pm – Liz Faircloth
How to Grow Your Real Estate Portfolio on Your Own Terms
1:00pm – Dan Deppen
7 Note Investing Lessons I Learned the Hard Way
2:00pm – Bill Cook
The Power of Options and Real Estate
3:00pm – Marco Bario
Going for Broker
4:00pm – Nick Legamaro and Eric Sage
The Perfect Note Blueprint
5:00pm – Nathan Turner
Buying Mortgages, Contracts for Deed and…Lease Options?
Bonus Session, 6:00pm – Jeff Watson
Asset Protection: Myths vs. Reality
Day 2 – Friday, February 10 (all times are EST)
Sponsored by Seveney Mortgage Note Investments
9:45am – Fred Rewey and Tracy Z
Welcome to Day Two
10:00am – Chris Seveney
How to Lose Money Investing in Notes in 2023
11:00am – Tracy Z
Beating Inflation with the Ultimate Safety Net
12:00pm – Steve Vigil
Benefits of Private Money
1:00pm – Note Panel with Fred Rewey, Will Henning, Bob Zachmeier, and Bob Repass
Why Note Investing Stands the Test of Time
2:00pm – Laurie Itkin
Create Options for Income in 2023 Within a Brokerage Account
3:00pm – Tony Sottile and Franco Barile
Foreclosure and Bankruptcy Basics for Note Investors
4:00pm – Anne Marie Rogers
IRA Law Changes: Secure Act 2.0
5:00pm – Martin Saenz
The Important of Having a Living Financial Statement
Bonus Session, 6:00pm – John Fedro
Mobile Homes Investing in 2023: Affordable Housing Solution or Failure?
Day 3 – Saturday, February 11 (all times are EST)
Sponsored by NoteSchool
9:45a – Fred and Tracy Z
Welcome to Day Three
10:00am – Eddie Speed
Non-Performing Loans are Back: Seize the Opportunity!
11:00am – Cody Faller
All-In Note Investing
12:00pm – John Hyre
Tax Planning: Non-Taxable Accounts and "Trade or Business" vs. "Investment"
1:00pm – Ben Fraser
Investable Megatrends for the Next Decade
2:00pm – Melissa Bolling
How Professional Servicing Safeguards Your Cash Flow
2:30pm – Byron Rouda
How to Successfully Underwrite a Business Note Purchase
3:00pm – Rick Allen
Creating Seller-Financed Notes from Acquired Real Estate Deals
4:00pm – Bill Tan
Creative Investing in a Changing Market
5:00pm – Neal Polshuk
How to Make a Great Living Helping Businesses with Cash Flow
5:30pm – Walter Wofford
Negotiating Profitable Seller Financing When Buying
Watch from Anywhere and On Any Device
Log in from wherever you are during the Expo on your Computer, Laptop, Phone, or Tablet. No need to travel hundreds of miles to a hotel or miss the event if you are on vacation.
Can't make those dates? We have you covered…
Yes, you can watch all the presentations live for free, and they will be kept online for an additional 48 hours. If you need more time or want to have lifetime access to all of the presentations, you can also purchase a VIP Access Pass at a special price. Cash Flow 2023 is the biggest event of its kind. If you missed the last couple of years, this is your chance to see what all the talk was about.