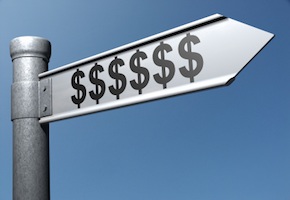 Welcome to Real Deals! It's always easier to learn from real life so here we share information from actual owner financed transactions.
Sometimes it takes creative thinking to find the opportunity in a transaction. See how $24.80 was turned into $15,540 with a little time and know how.
Owner financing is a frequent "go-to" solution for hard to finance mobile homes. This transaction involved a 1973 doublewide located on deeded lot in a mobile home community.
The sales price was $59,950 with $5,000 down and the seller agreed to owner finance the balance of $54,950 at 9.25% interest using a Real Estate Land Contract. The buyer was required to make ten years of payments at $452.06 per month and then the note had a balloon payment of $49,358.75. When the contract paid off the buyer would receive the warranty deed.
After collecting payments for a year the seller wanted to sell the note for cash now. Due to investment-to-value limitations the best offer was a purchase price of $43,400 from a local note buyer. The seller was only interested in a full purchase and needed to net at least $43,150 due to medical costs and challenges.
That only left a fee of $250 ($43,400 less $43,150). On top of that there were title and recording expenses to be paid of $225.20 leaving a net fee of only $24.80.
Here's how we turned the $24.80 into $15,540!
The investor was willing to purchase all of the monthly payments and PART of the balloon payment for $43,400. The seller was willing to sell the whole note (payments and ALL of the balloon) for $43,150. So we purchased a full from the note seller and sold the partial to the note buyer.
We only earned $24.80 on the initial note transaction but when the balloon paid off 9 years later we earned another $15,540.53. Here is a copy of the check the note investor sent our company when the real estate land contract paid in full: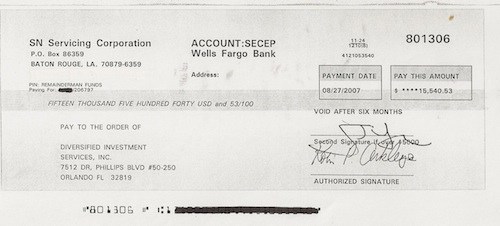 The $15,540.53 represents the portion of the balloon payment we retained, also known as the remainder interest, tail end, or back-end of a mortgage note. The note investor paid the note seller at closing so the transaction did not require an upfront investment by us.
If you are interested in the "How-To" manual for making money in the note business be sure to read the Personal Profit Series: Notes Manual included in the Member's Area of the Finding Cash Flow Notes Training.
Real deals are based on actual transactions completed within the past ten years. Market conditions change frequently resulting in pricing and underwriting changes by note investors. Work with qualified professionals when creating new notes to obtain accurate and up-to-date pricing and investment parameters.