We talk a lot about investing in real estate notes and why we think it is a lot better than being a hands-on landlord. Let's say this: being the bank is easier than being a janitor.*
*Ok, you are not really the janitor, and there is nothing wrong with that profession. But sometimes, as a landlord, you feel like you have to do all the work (or hire people to do it). Fix toilets, change door locks, handle move-outs, haul trash, you name it.
If you missed any of the reasons we LOVE investing in notes v. real estate, start here.
Why We Love Investing in Real Estate Notes
Notes, like homes, are an asset. When you purchase a note, you can receive a great return on your investment, collect each payment, and carry the note to term (or until an early payoff).
But, like any asset, there may be a reason to sell it sooner than planned.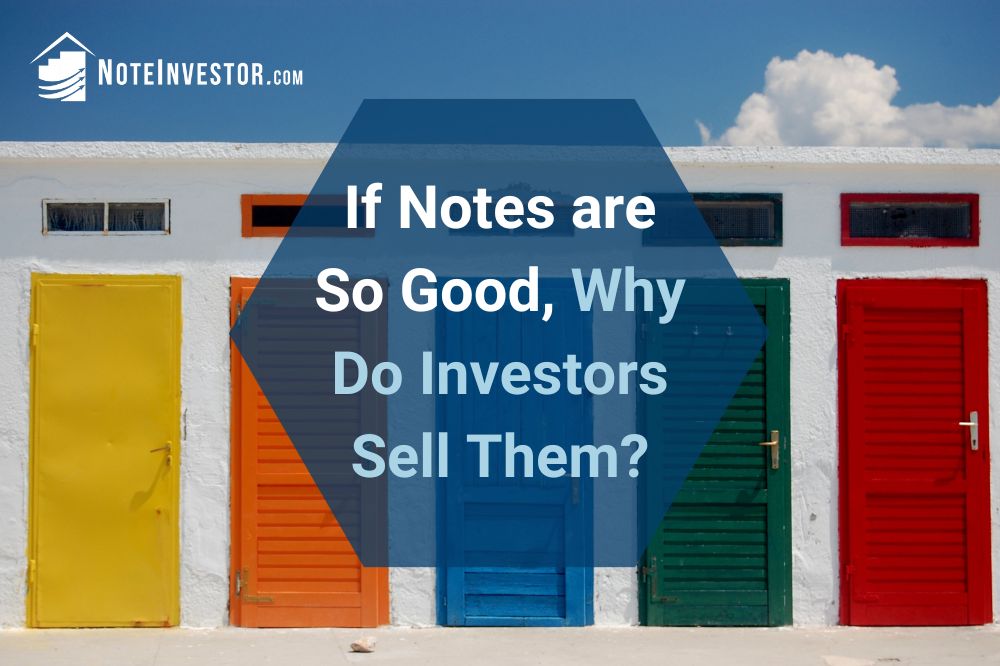 Here are Just a Couple of Reasons Note Investors Sell Notes
The Value of the Note Went Up
Wait what? Are you telling me the value of a note can go up and be worth MORE than when I purchased it?
Absolutely.
Real estate notes can fluctuate in price depending on a few market changes. The good news is that you effectively 'locked' your return when you purchased the note, so we are talking about selling for an upside here.
There are a lot of reasons a note can go up in value.
Reasons such as more equity in the property, the property was improved, buyer improved their credit score, buyers have been paying longer (seasoning), etc.
It is possible to purchase a note, hold it for a while, collect payments, and then sell the note for more than you paid.
The Investor Wants to Invest in Another Note
Maybe you have your eye on another deal.
Maybe you purchased a note with a return of 11%, and now you see an opportunity to purchase a different deal at a much higher return. Maybe you sell the lower-earning note to purchase a higher one.
Location
Maybe the investor was purchasing notes that were located close to home and are now moving.
You certainly don't need to purchase notes close to home, but it is not a bad idea if you want to keep an eye on the property.
That said, life happens, and sometimes people move. You can certainly hold on to the notes, but maybe you want to sell the ones you are no longer close to and re-invest in your new area.
Pooling Notes
Some investors buy individual notes and put them together with other notes (creating a pool of several notes).
If there are enough notes in the pool, an investor can often get a better price for selling them as a group than selling them individually.
We All Have Needs
Maybe an investor wants to free up money for personal reasons.
Remodel a house, invest in something else, send a kid to college, or simplify their holdings as part of estate planning.
Note investors sell notes for several reasons. Investors are just like everyone else. They have personal needs, and sometimes selling (or trading a note) is a great option.
Real Estate Notes Give You Options
Remember that just because you purchase a 20 or 30-year note does not necessarily mean you are locked into the receiving end of those payments for the entire term.
Notes are an asset, and assets always have value.
Yes, chances are when an investor purchases a note, they will play the whole scenario out (collect monthly payments or get an early payoff).
It is also nice to know there are options should your plans change or another opportunity comes along.