We are pleased to share this investor interview from the Directory of Note Buyers and introduce you to Troy Fullwood, owner of Pinnacle Investments. Troy learned the ropes flipping notes in the late 90s and then started buying notes in-house. Based in Arizona, Pinnacle Investments buys nationwide and will consider both performing and delinquent real estate notes that were created through seller financing or loan origination.

What is the current investing focus of Pinnacle Investments?
Troy Fullwood: 90% of our focus is SFR first lien 1-4 units Performing and Non-Performing Notes.
How did you get your start in the note business?
I got started back in 1997 by flipping notes to the Associates Financial Services. I did that for 2 years before I went and secured a line of credit to purchase notes for myself (It was a great way to earn while I learned the business).
What unique benefits does your note buying company provide?
Sole decision making process, Quick closing timeframes.
What type of real estate notes will your company consider funding?
Performing Notes Guidelines:
Location: Purchase Nationwide
Note Size: Min. 10k to Max. 500,000K
Property Type: SFR, SFNO, MH w/land, Condos, 2nd homes, Townhomes, 1-4 units.
Credit: Min. 550+ Credit Score
LTV: 95%
Payment Seasoning: Min. one payment
Non-Performing Notes Guidelines:
Pricing is based on asset quality – each deal is measured on its own merits.
What type of deals would just waste your time?
2nd liens, land notes, broken development deals, mobile home without land.
What do you consider the best methods for finding deals?
Networking and title companies. This is a relationship based business.
How do you handle commissions to brokers or consultants?
I protect brokers / consultants with a fee agreement, and I pay outside of escrow after the transaction closes.
What advice would you give to new professionals just starting out in the industry?
Don't do broker chains, they are a waste of time.
What is the most common business mistake you see people make?
Giving up on their business too quickly. This is not a get rich quick industry. You have to work your business to receive the value from the business.
Given the current economy, have you made any changes in the way you transact business?
Not really, I have always maintained a high quality level to Due Diligence on every deal I do.
Where can someone contact you to obtain more information?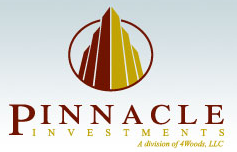 Troy Fullwood
Online: www.pinnacle-investments.com
Office: 480-831-5067
Fax: 480-831-5068