Looking for the roundup of winners for the current year? Find your picks for the current year at Best of Notes!
Best of National Note Buyer (for Note Brokering)
Winner: FNAC (First National Acceptance Co.)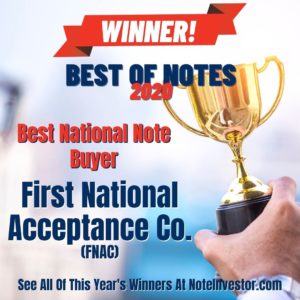 Nominees:
AmeriFunds
FNAC (First National Acceptance Co.)
Grand Bank
Notable Mortgage Buyers
Reliant Financial
Best Note Listing Exchange Platform
Winner: NotesDirect.com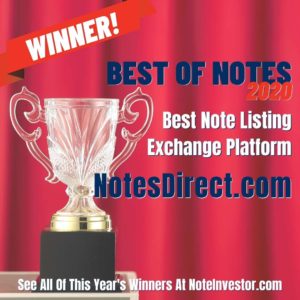 Nominees:
ExchangeLoans.com
LoanMLS.com
NotesDirect.com
NoteTradeX.com
PaperStac.com
SNSC.com/SNTrading
WatermarkExchange.com
Best Self Directed IRA Company
Winner: Quest Trust Company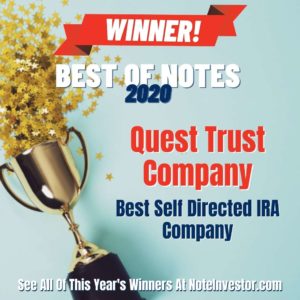 Nominees:
CamaPlan
Directed IRA Trust Company
Entrust Administration
Equity Trust Company
Kingdom Trust
Mainstar Trust
MidAtlantic IRA
NuView Trust
Quest Trust Company
Best Note Servicing Company
Winner: Allied Servicing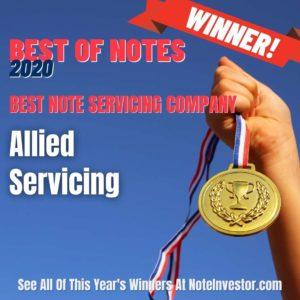 Nominees:
Allied Servicing
August REI
Evergreen Note Servicing
FCI Lender Services
Land Home Financial Services
Madison Servicing
Main Street Capital Servicing
Note Servicing Center, Inc.
Real Estate Property Services – REPS (Formerly NAA)
SN Servicing
Best Note Servicing & Tracking Software
Winner: The Mortgage Office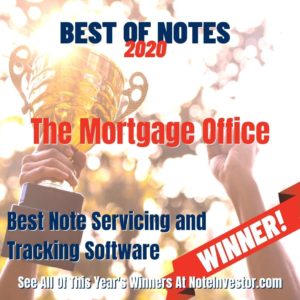 Nominees:
The Mortgage Office
NoteDashboard
NoteSmith
Best Seller Finance MLO (Mortgage Loan Originator)
Winner: Call The Underwriter (Russ O'Donnell)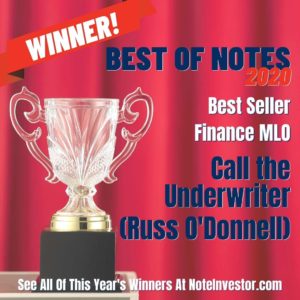 Nominees:
Call The Underwriter (Russ O'Donnell)
Investor Mortgage Compliance Services
Texas Pride Lending
Vintage Home Loan
Best Business Note Buyer
Winner: Security Financial Services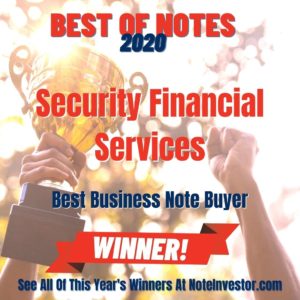 Nominees:
Reliant Financial
Security Financial Services
Best Distressed Debt Buyer
Winner: Colonial Funding Group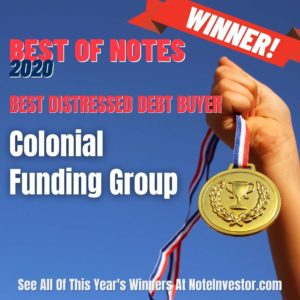 Nominees:
Aspen Funds
Colonial Funding Group
Faller Financial
Keyhole Financial
NNG Capital Fund
Revolve Capital Group
Best Financial Calculator
Winner: Excel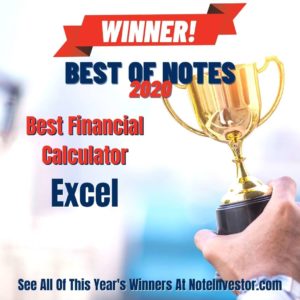 Nominees:
Excel
HP12bii
HP12C Financial Calculator
Texas Instrument
TValue Software
Best BPO Valuation Service
Winner: Baldwin Advisory Group (BAG)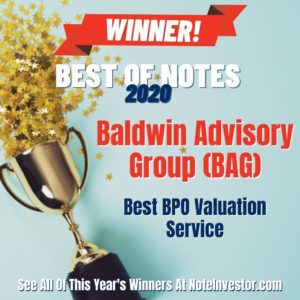 Nominees:
Baldwin Advisory Group (BAG)
BPOPro by Valuation Vision
Computershare
NVMS National Vendor Management Services
Pro Tech Valuation Services
Service Link
Summit Valuation Solutions
Best Title Report Company
Winner: ProTitle USA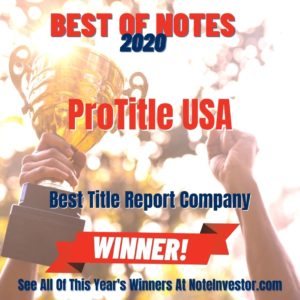 Nominees:
a360inc Title Solutions
Accurate Group LLC
Baldwin Advisory Group (BAG)
First American Title
ProTitle USA
Best Property Insurance Company
Winner: J.B. Lloyd & Associates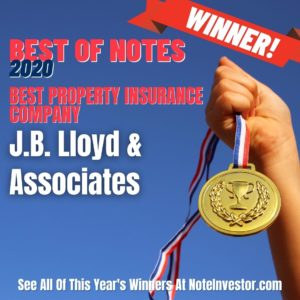 Nominees:
J. B. Lloyd & Associates
National Real Estate Insurance Group (NREIG)
Ross Diversified Insurance Services (RDIS)
Best Marketing Method For Finding Notes
Winner: Networking & Referrals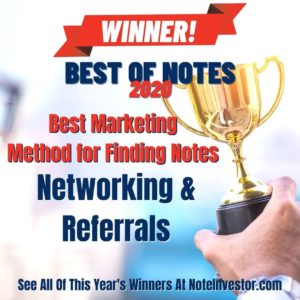 Nominees:
Craigslist
Direct Mail
Networking & Referrals
Social Media
Website
Best Note Industry Newsletter
Winner: Paper Source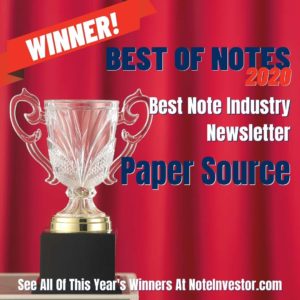 Nominees:
Noteworthy USA
Paper Source
Best Note Analyzer & Tracking Tool
Winner: Note Unlimited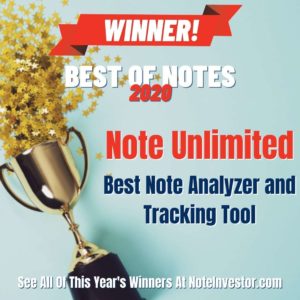 Nominees:
Note Unlimited
NoteProz
NoteRules
JKP Portal Due Diligence Tool
IPA by Revival Brothers
NPL Manager
Best List Provider For Direct Mail
Winner: Advanced Seller Data Services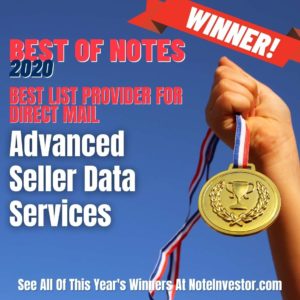 Nominees:
Advanced Seller Data Services
Black Knight Financial Services Data
Experian Note Holder List
Meridian Data Group (NoteDocs)
Best CRM For Note Investors
Winner: MailChimp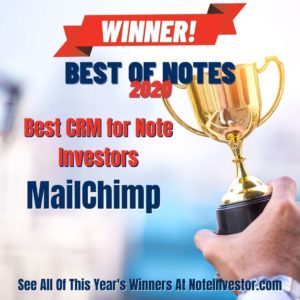 Nominees:
Constant Contact
InfusionSoft
Kartra
MailChimp
PipeDrive
Salesforce
Best Legal Services
Winner: Jeff Watson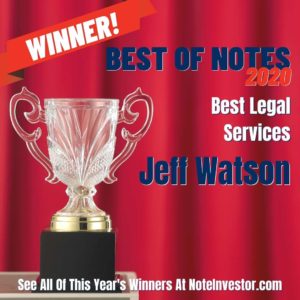 Nominees:
Caballero Lender Services
Carlisle Law
Erin Quinn
Geraci Law Firm
Jeff Watson
Note Counsel (Paul & Adam Vincent)
Tony Sottile
Best Social Media Platform for Note Professionals
Winner: LinkedIn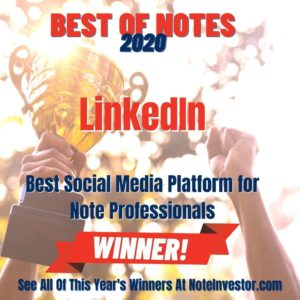 Nominees:
Best Public Networking Group for Note Investors
Winners: Bigger Pockets Forum and Financial Friends Network (Walter Wofford) – TIE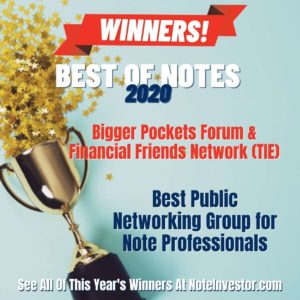 Nominees:
Bigger Pockets Forum
East Coast Distressed Note Investing Facebook Group
Financial Friends Network (Walter Wofford)
Note Buyers and Sellers Facebook Group
Note Investing Made Easier Facebook Group (Closed Nov 13, 2020)
Notes and Bolts Good Deed Investing Facebook Group
Real Estate Note Investing Facebook Group
Best Skip Tracing Company (For Locating Phone Numbers and Emails)
Winner: TLOxp by TransUnion

Nominees:
Been Verified
IDI Core
LeadMining
Lexis Nexis
People Finder Pro
TLOxp by TransUnion
White Pages
Best Note Industry Convention
Winner: NoteExpo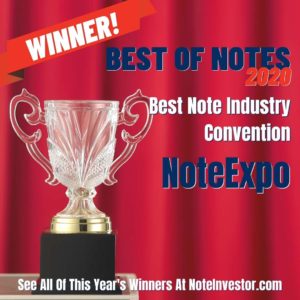 Nominees:
Cash Flow Expo
Diversified Mortgage Expo
IMN Defaulted Notes
NoteExpo
NoteWorthy Summit
Paper Source Note Symposium
Quest Con Expo
Thanks for Voting, See You Next Year!
Get the complete contact info for all of these companies (and more) in the Note Buyers Directory here!